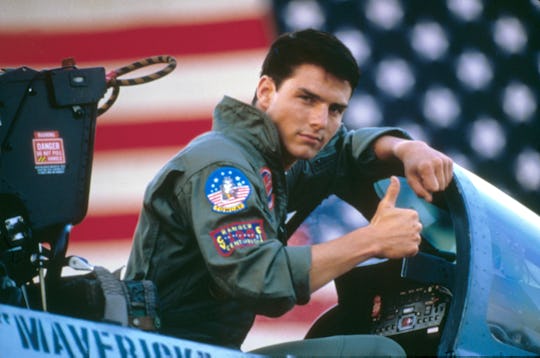 Sunset Boulevard/Corbis Historical/Getty Images
16 Top Gun Costumes For The Whole Family To Buy Or DIY
Every Halloween, the year's most popular movies, books, and TV shows inspire some of spooky season's best costumes. This year, you're probably going to see some some Margot Robbie-inspired Barbies, '80s outfits a la Stranger Things, and Top Gun costumes in every size imaginable (because even babies can be fighter pilots on Halloween). When your family hits the sidewalks to trick-or-treat, it'll look like everyone at the flight academy is out for a stroll.
Top Gun, in all its 1980s glory, stars Tom Cruise as Maverick, a young naval pilot who is invited to train at TOPGUN, the nation's toughest school for future fighter pilots. His best friend Goose attends as well, and Maverick soon meets his rival, Iceman, falls in love, and, well, plenty of other things we won't spoil here.
Rebooted and released in 2022, Top Gun: Maverick tells the story of Mav after 30 years of service, heading back to TOPGUN to teach a new class of students for tougher missions than ever before. So, whether you're obsessed with the original or your kids are now on board with all things Top Gun thanks to the new movie, here are the best Top Gun costumes for the whole family (*ahem,* flight crew).
We may receive a portion of sales if you purchase a product through a link in this article.
Grab your Goose, Rooster, Iceman, and anyone else in your fam who needs to suit up for flight (or a motorcycle ride). And don't forget to snap a pic of your epic Top Gun family Halloween costume.