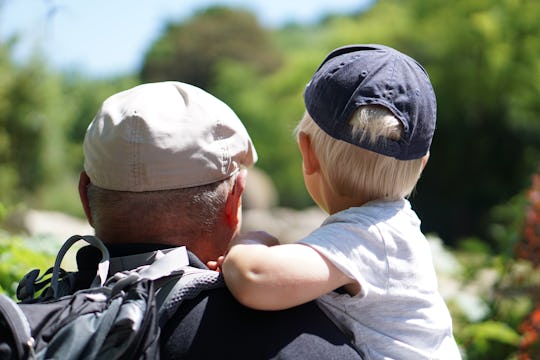 Shutterstock
7 Signs Of A Toxic Grandparent, According To An Expert
Red flags of unhealthy behavior can sometimes be subtle.
The relationships your kids have with their grandparents can be extremely special and among the most important relationships in their young lives. Unfortunately, however, some grandparents aren't all that "grand" when it comes to how they treat their grandkids. Worse, their behavior can take a turn toward the emotionally abusive. If you're a parent who relies on your own parents for child care and support, it's important to be able to recognize the signs of a toxic grandparent so you can intervene when necessary.
Domestic violence doesn't always occur between intimate partners — it can happen in all types of family relationships, including the one between a grandparent and grandchild. In fact, 6.5% of perpetrators of child maltreatment are relatives other than a child's parent, according to the Children's Bureau of the U.S. Department of Health & Human Services. One thing to keep in mind about destructive behavior is that it usually occurs in patterns. "An adult can goof once or twice, but the way to know it's abusive is that it's consistent, and the grandparent doesn't respond to feedback from the parent about how this is not OK," Laura Brown, Ph.D., clinical psychologist and director of the Fremont Community Therapy Project in Seattle, tells Romper.
Every instance of a toxic grandparent is different — you'll need to rely on your own family history to figure out which of these red flags apply. But if you notice one or more of these concerning behaviors from your child's grandparent, it's worth taking a closer look at whether their relationship to your child might be unhealthy.
If they do bring up their concerns to you, don't hesitate to address this with the grandparent directly. "The parent needs not to regress and make excuses for their parent, [such as] 'Oh, don't take seriously what your grandparent said,' or some version of that," Brown urges. "The parent needs to act immediately and clearly." The sooner you label this behavior as unacceptable, the sooner you'll be able to nip it in the bud before it gets any worse. Even if that ultimately means cutting off contact with a toxic grandparent, you can do so knowing you are making the best choice for your family right now.
Studies cited:
Child maltreatment 2019: Summary of key findings - child ... (n.d.). Retrieved October 5, 2021, from https://www.childwelfare.gov/pubs/factsheets/canstats/.
The Trevor Project National Survey. The Trevor Project. (n.d.). Retrieved October 5, 2021, from https://www.thetrevorproject.org/survey-2021/.
Experts:
Laura Brown, Ph.D., clinical psychologist and director of the Fremont Community Therapy Project
If you or someone you know is experiencing domestic abuse, call 911 or the National Domestic Violence Hotline at 1(800) 799-SAFE (7233) or visit thehotline.org.
If you or someone you know is seeking help for LGBTQ+ mental health or safety concerns, call The Trevor Project's 24/7 Lifeline at 866-4-U-TREVOR (866-488-7386). You can also reach out for instant message or text message support via TrevorChat and TrevorText, respectively. For additional resources for trans people, call the Trans Lifeline at 877-565-8860. In an emergency, contact the National Suicide Prevention Lifeline at 1-800-273-TALK (8255) or call 911.
This article was originally published on