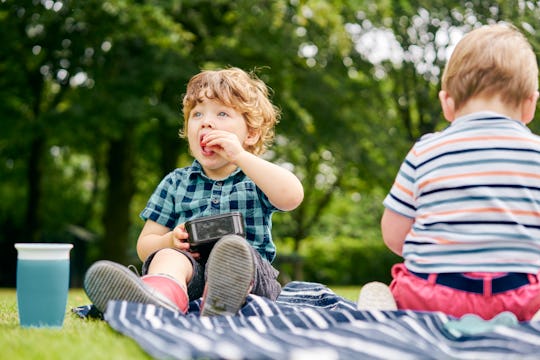 GS Visuals, Getty images
20 Trader Joe's Snacks You Need For Memorial Day Weekend
Memorial Day is almost here which means your to do list probably includes purchasing the following items: sunscreen and snacks. Here's some good news: You can get all of the above at Trader's Joe's and spare yourself another trip. Plus, TJ's has some of the best snacking options around.
From savory to sweet, the compact grocery store packs a punch when it comes to tasty treats you'll want on hand this Memorial Day. Now you could roll into your local Trader Joe's and peruse yourself. Or you could take this trust shopping list and power shop your way to snack heaven. The key is to balance the flavors so that you have a little something for everyone. Also, think about the fact that you could be serving a crowd of varying tastes (from kids to grandparents). What are people going to want to be reaching for at 10 a.m. when testing the waters of Oma's pool? They might prefer a breakfast Danish over a bag of chips and dip. Then again, when the sun reaches its zenith and your toddler's floaties look like they're about to deflate, it might be time to sit in the shade and grab a box of Cheddar Rockets for an afternoon pick-me-up.
Bottom line: Trader Joe's is that rare retailer that seems to have a super star snack item to suit every palate. All you need to do is buy enough of them.
Got your list ready? Time to hit TJs. And don't forget to grab that sunscreen too!