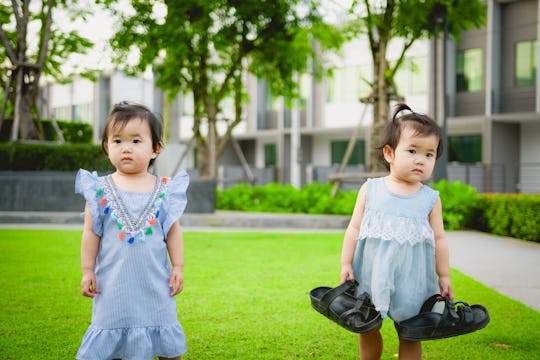 Shutterstock
Double Your Fun With These Instagram Captions For Twin Pics
Two heads are better than one.
Raising twins means having two adorable photography subjects on hand at all times. Thankfully, there's no shortage of cute Instagram captions for pics of twins, because honestly you have a never-ending supply of precious kid pics. Now it will be easier than ever to caption those moments to share with family and friends all over Insta.
Remember that your twins are a pretty unique pair. Out of every 1,000 live births, twins make up only about 33 of those, as noted by the Centers for Disease Control and Prevention (CDC). Although there are factors that can increase your chance of having twins, such as using fertility supplements, it's still a relatively rare and special occurrence. If you've been out and about with twins for very long, then you know how much attention they can demand. It may be tricky to get through a single grocery store trip without someone stopping you to ask, "Are they twins?!"
Although parenting twins means doubling up on the diaper duty and late-night feedings, it's also fascinating to watch these extremely close siblings grow up together. Basically, it's raising kids with permanent double vision. It's no wonder there are so many cool quotes and sayings about twins that can dress up your Insta feed.