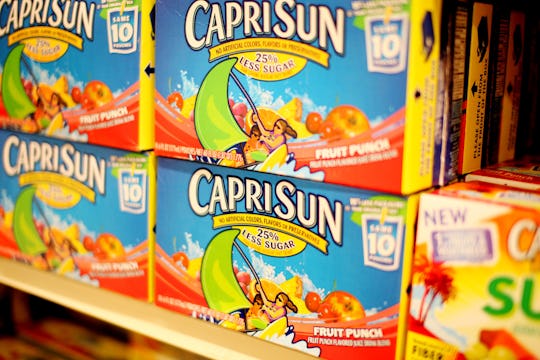 Sandy Huffaker/Corbis News/Getty Images
6-Year-Old Twins Tried To Order $800 Worth Of Snacks & Juice On Instacart
We all need 35 cases of Capri Sun, right?
Author Jessica Aiwuyor is a mom of 6-year-old twin girls who happen to be very resourceful. Especially when it comes to snacking. As the mom shared in a viral Twitter thread, her daughters were feeling a little peckish and tried their darnedest to get themselves some snacks via Instacart. To the tune of $800 worth of Lunchables, Doritos, and of course Capri Sun. Thank goodness they couldn't quite figure out that final step.
In a recent Twitter thread, Aiwuyor shared that her daughters attempted to go on a little online shopping spree. "My six year old twins almost purchased close to $800 worth of snacks using my Instacart app." The exasperated mom shared screenshots of the massive order her daughters attempted to put through, including a whopping 35 packs of Capri Sun fruit punch, seven bags of nacho cheese flavored Doritos, 14 bags of Lay's (barbeque and sour cream and onion for a variety) and seven bags of white cheddar Smartfood. Party size Smartfood to be precise, just in case they ran out of snacks.
Fortunately for Aiwuyor's bank account, her two little scamps didn't manage to get those snacks delivered for one reason only and it wasn't a guilty conscience or a change of heart. "They almost completed the purchase but couldn't figure out the last few steps. I serve a living God," she explained on Twitter.
The hilarious attempt at trying to score hundreds of dollars worth of snacks went viral on Twitter, with many users applauding their ingenuity. "I love you little instacart babies have so much fun living my dream," one person replied. Another noted that their choice in beverage was especially epic, "35 boxes of caprisuns???!! But lemme get a bag of that white cheddar popcorn."
Perhaps the best response came the day after their foiled order from Instacart, who went ahead and sent them their desired order. And of course they are proudly gripping a giant box of Capri Sun close to their chests.
These two girls are not the first kids to hit up their parents' phone to order some food without their knowledge. A 6-year-old boy in Michigan recently ordered $1,000 worth of takeout on Grubhub on his dad's phone, and when he was asked about it his only concern was getting an ETA on his pizza delivery. Grubhub generously offered the bewildered dad a $1,000 credit, which has me thinking these kids kind of have the right idea here.