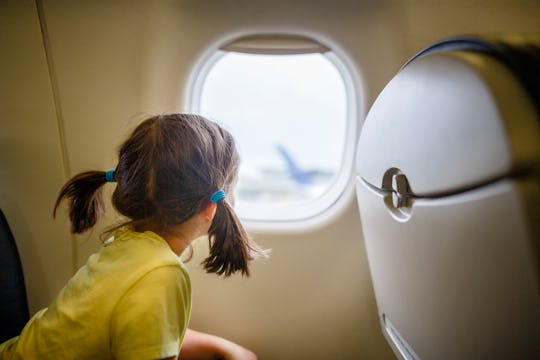 Cavan Images/Cavan/Getty Images
United Airlines Will No Longer Charge Parents Extra Fees To Sit Next To Their Kids
"If you're flying with children under 12, we'll make sure they can sit next to an adult in your family for free."
United Airlines has made a significant change to its seating policy, and it's going to make a big difference to the way parents are able to fly with their kids. The company announced on Monday that families booking flights with children under 12 years of age will find it a lot easier to find seats together. And what's more, they won't be charged extra for it.
"If you're flying with children under 12, we'll make sure they can sit next to an adult in your family for free," United Airlines announced in a press release, adding that this option will be made available to families who have purchased basic economy tickets soon as well.
If families can't find seats next to each other, as can often be the case when traveling with larger groups, United Airlines said it will make it easier to find other options. "If seats next to each other aren't available because of last minute bookings or unscheduled aircraft changes, you can switch to another flight for free and won't be charged for the difference in fare."
These changes are meant to make travel easier and more affordable for families. "We're focused on delivering a great experience for our younger passengers and their parents and know it often starts with the right seat," Linda Jojo, chief customer officer for United Airlines, told CNN in a statement.
This updated family seating policy comes nearly seven months after the Department of Transportation issued a stern rebuke to airlines for charging families with young children who want to be seated together. "The Office of Aviation Consumer Protection (OACP) has issued a notice urging U.S. airlines to do everything in their power to ensure that children who are age 13 or younger are seated next to an accompanying adult with no additional charge," the department said in a statement in July 2022. "Although the Department receives a low number of complaints from consumers about family seating, there continue to be complaints of instances where young children, including a child as young as 11 months, are not seated next to an accompanying adult."
President Joe Biden was so incensed by these extra fees for traveling families that he even mentioned the issue in his State of the Union address in February, noting that "baggage fees are bad enough" before adding that airlines "can't just treat your child like a piece of luggage."
It's about time airlines recognized how difficult it is to travel with children and stepped in to make it easier. Now if other airlines follow suit, that will really be something.