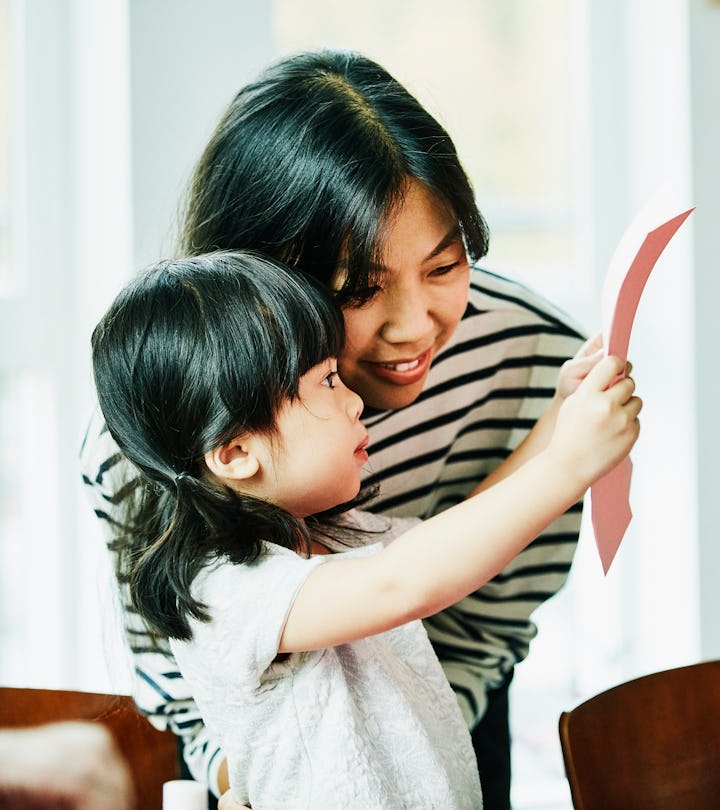 Thomas Barwick/DigitalVision/Getty Images
Sweet Valentine's Day Quotes
From funny to sentimental, these sweet quotes are perfect for celebrating Valentine's Day.
It's that time of year again. Valentine's Day is quickly approaching, and while I can't say I've ever gotten super excited about the holiday, I do believe that after the past couple of years, we all need love in our lives more than ever. This February, I'm looking forward to reading and sharing Valentine's Day quotes, sending cards to family and friends, and showering my kids with lots of hugs and kisses (and maybe a few chocolate kisses, too). If we've learned anything over the last two years, it's the importance of the cherished people in our lives, and not taking anything or anyone for granted. Whether it's a phone call, a meet-up, or a quick text or email, make sure to tell your friends and family you love them this Feb. 14. If you need a little inspiration for your Valentine's message, I've gathered some really beautiful (and hilarious!) Valentine's Day quotes about love by everyone from Dr. Seuss to Madonna.
Quotes about the love of family on Valentine's Day
"Live your life with love as your guiding principle — keep your family and close friends close." — Barbara Bush
"Nothing is more important than family." — Coco
"Family is not an important thing. It's everything." — Michael J. Fox
"Being a family means you are a part of something very wonderful. It means you will love and be loved for the rest of your life." — Lisa Weed
"If you want to bring happiness to the world, go home and love your family." — Mother Teresa
"This is part of what a family is about, not just love. It's knowing that your family will be there watching out for you. Nothing else will give you that. Not money. Not fame. Not work."— Mitch Albom, Tuesdays with Morrie
"My family is my life, and everything else comes second as far as what's important to me." — Michael Imperioli
"Other things may change us, but we start and end with the family." — Anthony Brandt
"I sustain myself with the love of family." — Maya Angelou
"I have a wonderful shelter, which is my family." — José Carreras
Sentimental Valentine's Day love quotes
"Love recognizes no barriers. It jumps hurdles, leaps fences, penetrates walls to arrive at its destination full of hope." — Maya Angelou
"Love is the whole thing. We are only the pieces." — Rumi
"If you live to be a hundred, I want to live to be a hundred minus one day so I never have to live without you." — A.A. Milne
"You know you're in love when you can't fall asleep, because reality is finally better than your dreams." — Dr. Seuss
"The best thing to hold onto in life is each other." — Audrey Hepburn
"To be brave is to love someone unconditionally without expecting anything in return." — Madonna
"The best and most beautiful things in the world cannot be seen or even touched. They must be felt with the heart." — Helen Keller
"There is only one happiness in this life, to love and be loved." — George Sand
"i carry your heart with me (i carry it in my heart) i am never without it (anywhere i go you go, my dear; and whatever is done by only me is your doing, my darling) — E.E. Cummings
"I have found the one whom my soul loves." — Song of Solomon 3:4
Funny Valentine's Day quotes
"I married for love, but the obvious side benefit of having someone around to find my glasses cannot be ignored." — Cameron Esposito
"I love you no matter what you do, but do you have to do so much of it?" — Jean Illsley Clarke
"All you need is love. But a little chocolate now and then doesn't hurt." — Charles Schulz
"Before you marry a person, you should first make them use a computer with slow internet to see who they really are." — Will Ferrell
"I love being married. It's so great to find that one special person you want to annoy for the rest of your life." — Rita Rudner
"I don't understand why Cupid was chosen to represent Valentine's Day. When I think about romance, the last thing on my mind is a short, chubby toddler coming at me with a weapon." — Paul McGinty
"I wanted to make it really special on Valentine's Day, so I tied my boyfriend up. And for three solid hours, I watched whatever I wanted on TV." — Tracy Smith
"I can't make you love me, but I can fill my pantry with your favorite snacks and offer you a weekly stipend of $75." — Rob Delaney
"Marriage has no guarantees. If that's what you're looking for, go live with a car battery." — Erma Bombeck
"A man's main job is to protect his woman from her desire to 'get bangs' every other month." — Dax Shepard
Even if you're not a big fan of Valentine's Day, you have to admit, setting aside at least one day every year to tell people you love them isn't the worst thing to celebrate — especially after everything we've endured these last few years. Since it's not always easy to find the right words to express your love for someone, though, feel free to let these quotes for Valentine's Day do the work for you.
This article was originally published on