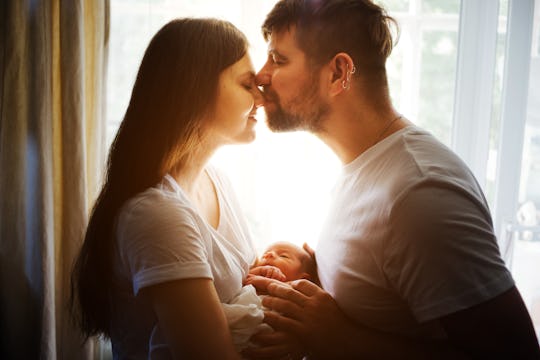 Shutterstock
The New Dad In Your Life Will Love These 10 Sweet Valentine's Day Gifts
Gifts to help him relax and feel seen.
Now that he's a dad, Valentine's Day is the perfect opportunity to celebrate how much you value him as a partner and as a co-parent. Just like you, he's probably tired, overwhelmed, and could use a little extra love, which is why the best Valentine's Day gifts for new dads are all about helping him chill out and soak up all the goodness that comes with fatherhood (and co-parenting with an awesome partner). Suffice to say, a little pampering may be just what he needs this year.
Searching for Valentine's Day gifts for men in general can be tough because a lot of them aren't really into the classic V-Day gifts like flowers and chocolates (but, if he is into those things, you are very lucky and I envy your easy shopping), and that makes shopping for Valentine's Day gifts for new dads all the harder, because if there's ever a time to do a little extra, it's during their first year of fatherhood. There are a few different ways you can go with this: with a gift that celebrates how much you love him, a gift that puts the spotlight on him as a dad, a gift that will make his life a little better in some way, or a gift that does a little bit of everything. Regardless of which direction you go, it's important to remember that the best Valentine's Day gifts for new dads will make him feel seen and appreciated.
If you're not sure where to start with your shopping, here are some gift ideas for the sleep deprived dad in need of some love.
We only include products that have been independently selected by Romper's editorial team. However, we may receive a portion of sales if you purchase a product through a link in this article.
Whether he's into the holiday or not, if he's new to parenthood then he could probably really use some extra love and attention on Feb. 14. The best way to do that is with a Valentine's Day gift for new dads that helps him relax a little, feel seen and appreciated, and/or indulge in something he truly enjoys doing.
This article was originally published on