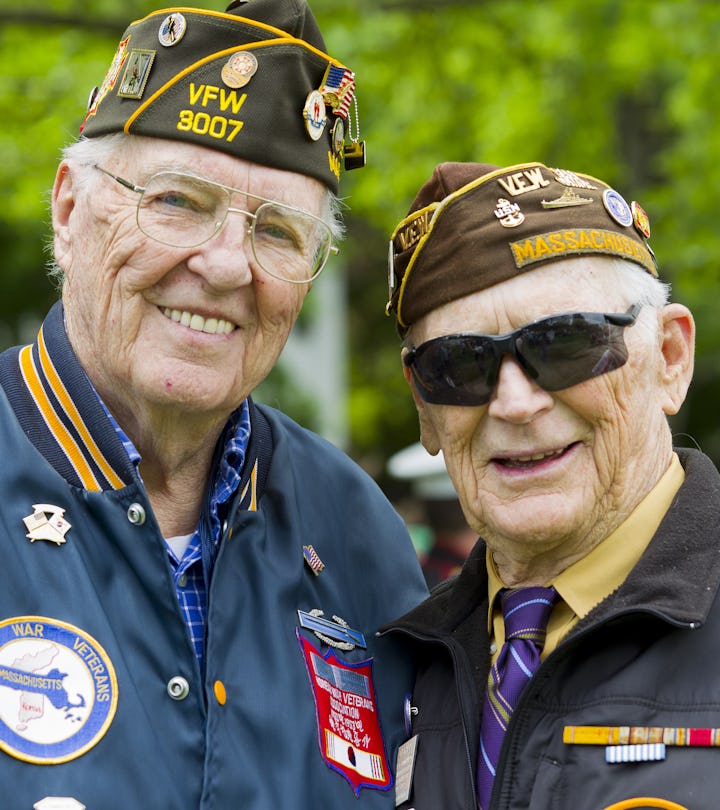 Flysnowfly/Shutterstock
What To Say To A Veteran On Memorial Day
It can be tough to find the right words.
I know it's hard to believe, but Memorial Day was not actually created for mattress sales, but to honor those who have died during active military duty. And you can say something meaningful to a veteran on Memorial Day to show your appreciation to those who have served in the United States armed forces. But how?
Well, that's where it can get a bit tricky. It's important to keep in mind that Memorial Day can be a touchy subject for active duty and retired veterans alike. After all, some might have witnessed life-changing events that traumatized them, and would prefer not to speak about their military experience at all. The day is for remembering the fallen, and it's likely that the vet in front of you may have seen some of his best buddies lose their lives. That's why it's important to be sensitive in how you approach a veteran on this particular day.
Also, consider how you know this veteran. Is it your husband, wife, or partner? Is it your friend, or a family member? The way you discuss Memorial Day with them is far different than an acquaintance or stranger. For my loved ones who have served or are serving, I can gauge when they want to talk about it, and when they'd rather not. That is the most important factor here. Because unlike Veteran's Day, which is all about thanking them for their service, Memorial Day remembers the dead for their sacrifice, and that can be intense.
It can be hard to know what to say to a veteran on Memorial Day. After all, it's a day that can bring up a lot of memories for vets — both true and tragic. Having the right words to honor veterans (and those who lost their lives) will ensure that you give them — and the holiday — the respect that the day deserves.
This article was originally published on