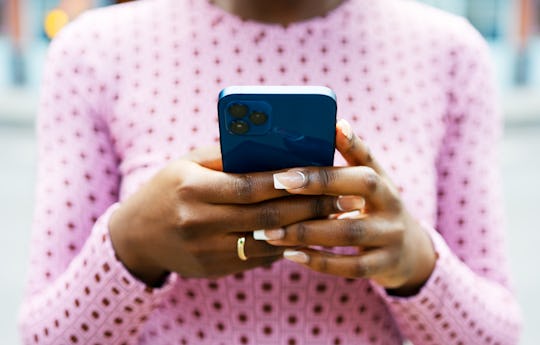 Tim Robberts/Photodisc/Getty Images
What To Text A Friend Who Is Freezing Their Eggs
They might be feeling a lot of emotions (and discomfort) right now.
There are countless reasons someone might choose to freeze their eggs. No matter the motivation, it's a huge decision and a pretty intense process. So, if your friend is about to start down that path, just know they'll probably need your support along the way. Knowing what to text a friend who is freezing their eggs can help you show them you care, and that you're holding their hand in spirit even when you're not right next to them in the doctor's office. And, of course, there will be moments to celebrate too — there's a reason egg-freezing showers are catching on.
The egg-freezing process itself usually takes two to three weeks to complete, not including all the bloodwork, ultrasounds, and other screening appointments leading up to it. To prepare their body for egg retrieval, your friend will have to administer their own injectable hormone medications daily for 10 to 12 days, get frequent pelvic ultrasounds and bloodwork, and finally undergo a surgical procedure to retrieve all the eggs that are ready to be frozen. All of these changes can cause nausea, headaches, and more uncomfortable symptoms. So, yeah, let's just say they'll appreciate any and all loving texts you send their way. Here are some ideas for what to say when it's time to check in.
What to text a friend who is freezing their eggs
I'm thinking about you today.
I know the injections suck. You're so strong for making this choice and seeing it through.
You can do this.
Let's grab dinner this week; I want to hear all your updates.
How are you feeling today?
Hey, how was your appointment today?
You're going to be an amazing parent one day.
I'm here if you need anything.
How can I support you this week?
Call me any time you want to talk, or if you just want to talk about something else and get your mind off of it.
I'm proud of you.
Tell me more about this part of the process; I want to understand what you're dealing with.
I love you!
Helpful texts to send a friend who is freezing their eggs
I know this is a complicated process. Is there anything I can help look up or research for you?
Heading to the store later, do you need any supplies or special snacks?
Do you need someone to come to any appointments with you?
Can I bring you anything from the pharmacy?
While you rest, want my HBO Max log in info?
Hey, I'm sending you an Uber Eats gift card.
Just booked you a massage to treat yourself after your retrieval is done.
Texts to send a friend after their egg retrieval
"I said brrr, it's cold in here." — Your eggs right now
I know you might be a little groggy today. You're in my thoughts.
You're done! Can't wait to celebrate.
No. More. Injections. Hooray!
I hope you told those doctors to be extra careful with my future little besties.
Whether you pick one of these scripts or find words of your own, your friend will always remember that you were there for them during the weirdly scientific-yet-sentimental process of freezing their eggs.