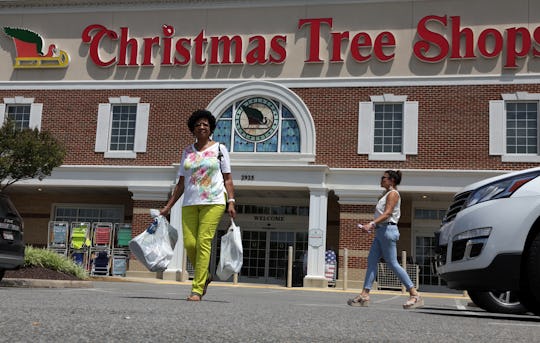 Alex Wong/Getty Images News/Getty Images
Christmas Tree Shops Is Closing All Stores & Sales Are Starting Really Soon
Get ready for deep discounts.
The holidays are coming to an end for Christmas Tree Shops. The beloved chain that sells home goods, party supplies and, of course, Christmas decor, is getting ready to shut its doors for good. Which means saying goodbye to a brand many people love, but also, of course, closing sales. So when do Christmas Tree Shops closing sales start? Here's everything you need to know.
When do the closing sales start at Christmas Tree Shops in 2023?
Christmas Tree Shops announced its plans to shutter the company late last week if no one stepped in to save it, but bankruptcy lenders want closing sales to get underway by July 7, according to CBS News. If there is not a last-minute reprieve for the chain, Christmas Tree Shops are expected to having their closing sales up and running by the weekend. Some stores in Rhode Island have already begun liquidating, and others will follow in the coming days.
Christmas Tree Shops started as a boutique store in Massachusetts.
The first Christmas Tree Shop opened as a stand-alone boutique store in Cape Cod, Massachusetts in the '50s, and went on to count 82 stores across the country by 2020. After 53 years in business, the company filed for Chapter 11 bankruptcy in May, closing 10 of its stores and taking out a $45 million loan in a bid to keep the remaining 72 stores open. Sadly the chain defaulted in the loan due to poor sales and declining revenue. Now Christmas Tree Shops, known for their "quaint, treasure-filled spaces," will be closing doors on the remaining 72 stores unless a buyer saves the chain this week.
People want Christmas Tree Shops to be saved.
After word of the impending closure of Christmas Tree Shops hit social media, fans of the discount chain took to social media to see if there was any way it could be saved. "I am so mad that they are closing the Christmas tree shops and bed bath and beyond. These people were nice enough to come back after the pandemic and work while having to wear a mask. I wish someone could save these stores and the dedicated people who work there," wrote one user. "Aw this is sad. I always loved going here. So many trinkets," wrote another. The chain, which was owned by Bed, Bath, and Beyond (which also filed for bankruptcy) before being bought by Handil Holdings LLC, is going to be sadly missed if no one steps in to save it.