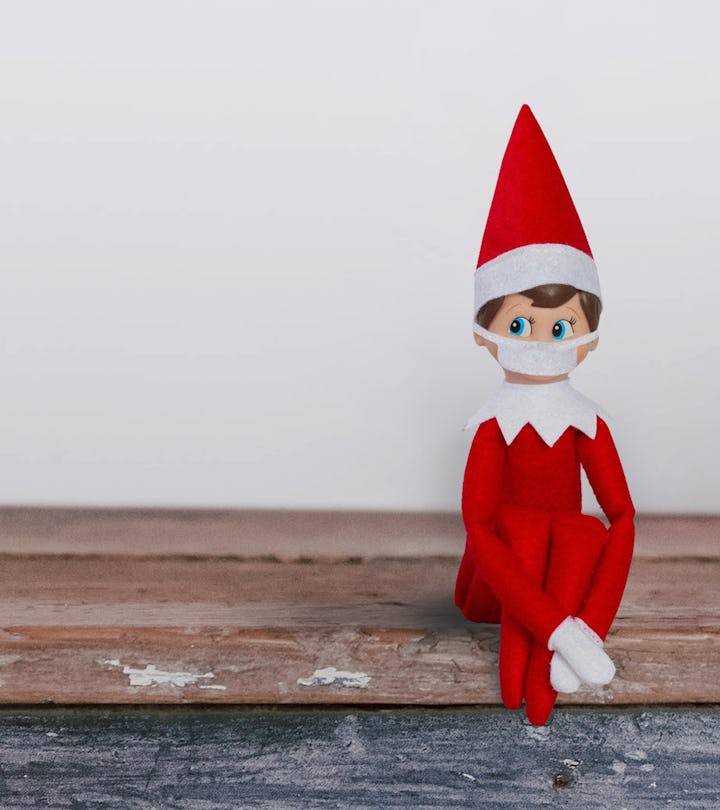 Shutterstock
Yup, You Can Get A Face Mask For Your Elf On The Shelf
I've seen advertisements for Santa ornaments with face masks, cookie plates with Mrs. Claus in a face mask, and Rudolph the Red Nosed Reindeer wearing a face mask on a face mask. But I never could have predicted the latest holiday/pandemic mash-up: face masks for Elf on the Shelf. Honestly, it makes perfect sense. The mischievous Scout elf, based on the book The Elf on the Shelf: A Christmas Tradition by mother-daughter duo Carol Aebersold and Chanda Bell, would need some PPE for this year's holiday hijinks. And we know just where to find them.
Naturally, the intrepid crafters of Etsy have this novelty item on lock for you. (We'd expect nothing less.) There are classic medical style elf masks, Christmas fabric masks covered in holly, and others decorated with snowflakes. Elf could easily wear a different mask each day of the month! There's even a printable face mask, hand sanitizer, and disinfectant spray kit you can order on Etsy.
In fact, so many smart entrepreneurs have jumped on the Elf mask train, it feels like Elf has just as many face protection options as the average U.S. citizen. And you'll pay roughly the same amount as you would for human-size masks as you will for these cute accessories. Which makes sense. I mean, consider the difficulty of sewing a mask that measures 1.5 centimeters high by 3 centimeters wide. That takes some serious skill, and costs accordingly.
So what does the the Elf on the Shelf company have to say about all this personal protection? "All Scout Elves are 100% healthy, since they are magical beings from the North Pole, they do not get human sicknesses and do not need to quarantine or wear masks" a statement from The Lumistella Company, home of The Elf on the Shelf®, verified via Kris Kringle himself. "But they do like to set a good example for humans and may choose to model safety protocols for their families" the note goes on to say. "In a year when many are longing for a comforting return to the celebrations of the season, Santa's Scout Elves are ready to bring joy and good cheer to all!"
And, not surprisingly, Elf on the Shelf HQ is also getting in on the mask production fun. The company has published a link where parents can print their Elf masks from their home printer. All you need are a pair of scissors and some nimble fingers.
Is printing out an itsy bitsy Elf mask a bit extra? Sure. But it's worth it, right? What could be better than watching the delight in your children's eyes when they realize their scout Elf is taking the same health and safety precautions as they are this Christmas season?
Want a face mask for Elfie that fits the holiday theme? How about one in candy cane print? This tiny mask was designed just for Elf on the Shelf, but the vendor assures that it will fit all kinds of dolls or action figures as well. Plus, you can choose to buy it with ties or elastic for the best fit. Made just like a regular accordion face mask any human would use, this will bend nicely over Elfie's tiny nose and look thoroughly authentic.
Want to buy an Elf on the Shelf mask that comes with a little something extra? How's this for a totally appropriate hygiene kit? The pack is made up of one disinfectant (choice of 4 colors), one 3D printed toilet paper, and two Elf face masks (choice of 4 colors). You won't just get a mask, you'll get an entire scene you can set up to surprise your child! If you're one of those parents who has spent the last couple of years deep cleaning every surface in sight, your child will be delighted to find that Elfie shares your dedication to cleanliness.
As the books tell us, Elf on the Shelf has a big relationship with Santa's reindeer. So, naturally, Elfie might want to rock his friendship with these gentle beasts by sporting them on his face mask. Here an itty bitty embroidered reindeer is on the front of a lovely plaid face mask that attaches with elastic on the back. Measuring 1 inch by 1.5 inches, this mask will provide Elf on the Shelf with the safe coverage he needs.
If you want to create a medical scene, then your Elf on the Shelf needs a medical mask. And this one looks the part. Blue fabric layered a la a medical mask make this piece of PPE look hospital ready. It even fastens like a true medical mask with a double string closure on the back. Maybe Elf gets into the bandaids or perhaps Elfie has some fun hiding in the First Aid Kit. Either way, this mask would fit the scene perfectly.
If you want a soft face mask that matches your own disposable ones for your Elf on the Shelf, this is a good option. Made of baby blue felt with embroidered accents, it includes elastic that's been knotted through each side. The set comes with three so you can put one in a mini trash can to show how Elfie is taking good care of his health by disposing of used masks after each use.
By this point in the pandemic, most people now have a dozen masks they rotate depending on the day or outfit. Why should Elf on the Shelf be any different? Have him wear a different mask every day with this 6 piece set. In this collection, you'll get six sequined masks, perfect for an Elf that has a special affinity for fashion! One is even glittery string light fabric, for the ultimate disco Christmas look.
Want to set up a snowball fight scene with your Elf on a Shelf? Get some cotton balls, make them into tiny snowballs, pile them up, then pose Elf behind them wearing this snowflake face mask. (Maybe add a little scarf too.) He'll be ready to play safely and be a great example to your kiddo about how to take care of their health this holiday season. And he'll be a nice way to gently remind your kiddo to put their mask on every day before they go to school.
Shop now. Last year Elf on the Shelf masks sold fast!
This article was originally published on