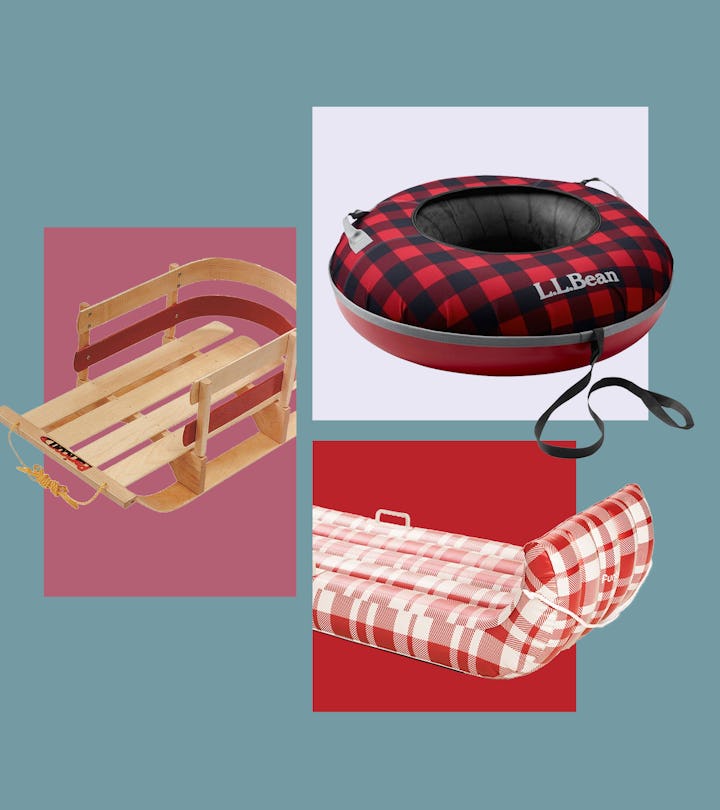 Get Ready For Snow Days With These Sleds, Tubes, & Toboggans
This is bound to be the best winter ever.
Sledding is just about the only outdoor winter activity I enjoy and it just so happens to be a great socially distanced thing to do with a group. If you live in a cold climate, sledding is definitely not cancelled this year, so you're going to want to know about these sleds and tubes for kids and families. Whether you're hoping to share a tube as you soar down the snowy hill, or your kid will be gliding down that hill solo, there's something here for everyone at a wide variety of price points.
You'll find a pair of sleds featuring the cutest characters (plus they're foam so your kid can't claim it's "too heavy" to haul back up the hill) and classic wooden toboggan styles that are equally perfect for styling a holiday photo shoot or for riding. There are inflatable sleds that are durable yet easily transportable, and even a unicorn tube because your kid needs a mythical accessory for every occasion.
Just note that while sledding is a fun activity for the whole family (especially when followed by cocoa or hot cider) it's only a good time for everyone if no one gets hurt. Kids Health recommends that kids under 5 are accompanied by adults, and that all kids (and adults, looking at you, Fun Uncle) avoid standing on the sled or going down head first. With that out of the way, check out these awesome sleds and tubes for all ages.
We only include products that have been independently selected by Romper's editorial team. However, we may receive a portion of sales if you purchase a product through a link in this article.
Sleds are sure to be a popular gift this winter with parents everywhere doing their part to spread joy (and find fun and active things to do with their kids). But winter is coming, so act quick. You don't want to find yourself hastily covering the lid of a trash can in butter spray in order to enjoy the first snowy hill of the year.
This article was originally published on