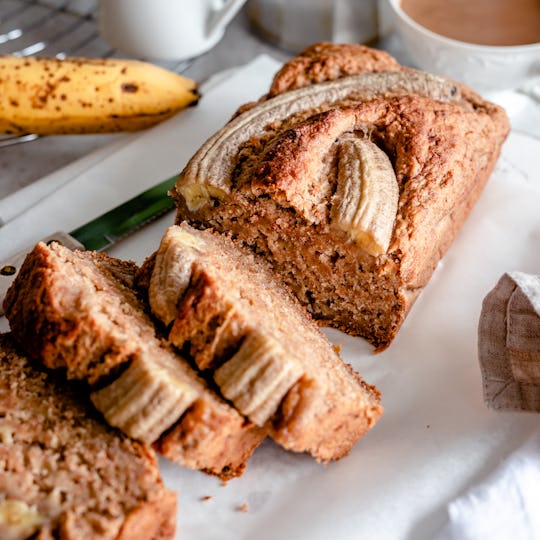 OatmealStories/RooM/Getty Images
10 Banana Bread Recipes To Make When You're Missing Some Pantry Staples
Making banana bread is the perfect way to inject some life into a batch of bananas that are about to go bad. But, if you're in-between grocery trips and out of flour or eggs or even sugar, your plans may hit a snag. Fortunately, these banana bread recipes without flour or other pantry staples can help you whip up something sweet without making a grocery run.
Is it just me, or does everyone seem like they're trying their hand at baking banana bread during lockdown? I've seen more than enough posts on social media of friends with loaves fresh out of the oven to convince me that I should absolutely be baking more banana bread. Pre-pandemic, I usually only baked around the holidays, but now I know the sweet bliss of baking on a random Tuesday afternoon and will not be looking back.
The delicious delicacy that is banana bread leans toward healthy while still being classified a sweet. Plus, you can eat it for breakfast, which classifies it as the epitome of ideal baked goods in my little corner of the universe. Alas, if you want to make this tasty treat but find yourself without certain pantry staples, these 10 recipes could still yield a suitable slice of banana-filled goodness.