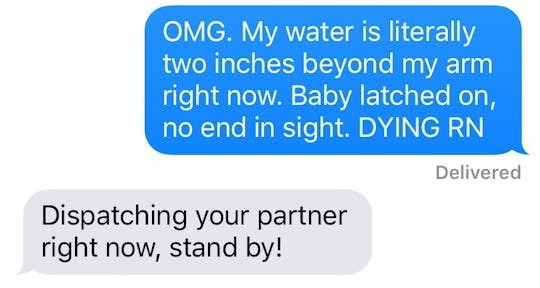 Courtesy of Sabrina Joy Stevens
10 Breastfeeding Goddesses Every Mom Wishes She Could Text, Because #MomLife
If you've been a parent for longer than eight minutes, you're well aware that, as important as you are in your child's life, the near-total level of control you fantasized about before your kids arrived is just that: a fantasy. There are many other factors in play when it comes to life with kids: what's happening in the rest of the society, the other people in your life, random chance, and of course, the parenting gods. These deities weigh in on everything, breastfeeding included. Every nursing mom should know the breastfeeding goddesses and pray to them regularly, as I can assure you they'll either make your life a lot easier, or give you total hell. I know which team I'd rather be on, just saying.
Since I'm already in trouble from the last time I talked about the parenting gods, I figured I might as well share what I know about the breastfeeding goddesses. (Who needs sleep, right?) Anyway, the breastfeeding goddesses are a little more mysterious than some of the other parenting gods most parents (especially new, first-time parents) usually and emphatically summon. The might not be on a first name basis with most parents, but they're generally pretty supportive once they've decided to be part of your life. (Except for the Goddess of Pumping. She is a piece of work.)
Here's hoping that all of your prayers to the nursing goddesses are answered — or if not, that at least the Goddesses of Intact Nipples and Confidence decides to make you a priority. You can survive a lot in this nursing journey as long as they've got your back, even if the others forsake you.