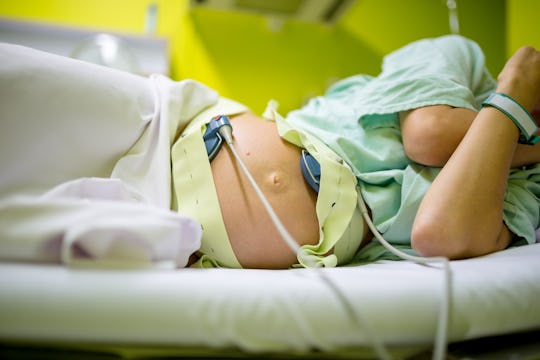 Fotolia
10 Labor & Delivery Higher Powers You'll Try To Summon When You're Pushing
There are those who say that the gods and goddess of yore were first realized by humans to explain the awe-inspiring and powerful natural forces that shape our existence. Few experiences, I would argue, are more awe-inspiring or powerful than childbirth. While countless societies throughout history have had deities upon whom pregnant, hoping to be pregnant, and laboring mothers could call, I believe there's an entire pantheon of very specialized gods and goddesses. In other words, there are the labor and delivery higher powers you'll try to summon when you're pushing, because when in the throes of childbirth you will literally take all the damn help you can get.
Women in the middle of actual childbearing have a tough row to hoe, and birth is not for the timid or feint of heart. There's a lot of very big, messy, physical and emotional labor to be had, after which you're expected to slide right into the very difficult work of recovering and mothering and childrearing. Divine intervention would be extremely helpful. Indeed, while in the process of birth, it sometimes seems that a goddess is the only entity in the known universe who could actually manage what your body, baby, and medical team are asking of you.
So, you may ask, "Who are these labor and delivery higher powers and how can I get their attention?" Well, I'm glad you're interested enough to inquire. Allow me to introduce you to the crew, who I may or may not (but definitely did) summon when I was bringing a child into the world.