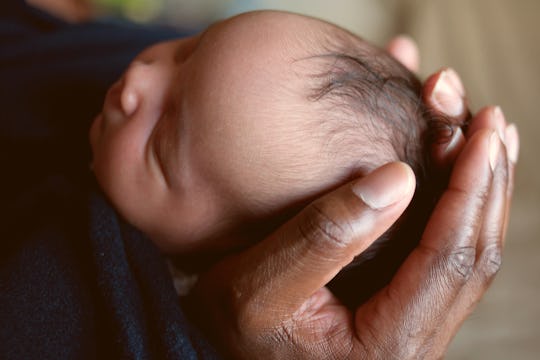 Fotolia
10 Dads Describe What It Felt Like When They Saw Their Kid For The First Time
Every now and again, I find myself wondering what my father thought or felt the night I was born. I can't ask — he died when I was almost three — but I've been wondering more than usual lately and so I decided have dads describe the first time they saw their kid to give me some idea.
I am not sentimental when it comes to objects and there are few items that make it with me from one stage of life to the next. One treasure, however, is the shirt my father was wearing the night I was born. It's the top of the OR scrubs he had to hastily change into when my mother needed an emergency c-section. There's a tiny, faded, rust-colored stain right in the middle of the shirt. I don't know what it is, it's about the size of the tip of an infant's finger and I've always imagined it's a spot where I broke free from my swaddle and touched him to say, "Hi."
Fatherhood has always been a particularly interesting topic for me, largely because I feel like we're seeing a shift in how we look at dads (as a society) and what we expect. My grandfather, for example, has four children and 16 grandchildren, and has famously never changed a diaper in his life. While I can imagine there are some fathers out there who still subscribe to the idea that there are some things "fathers just don't do" (one, in fact, is running for president and I'll just let you go ahead and guess which one) — and while we certainly have a long way to go when it comes to equitable division of childcare (and fair family leave policies for fathers) — most fathers today are taking an active role in raising their children beyond the detached, "I'm only here for discipline and financial concerns" approach of generations past.
So, I asked some of my dude friends what that first moment of fatherhood felt like: the moment they saw their kid for the first time. Here's what they had to say: