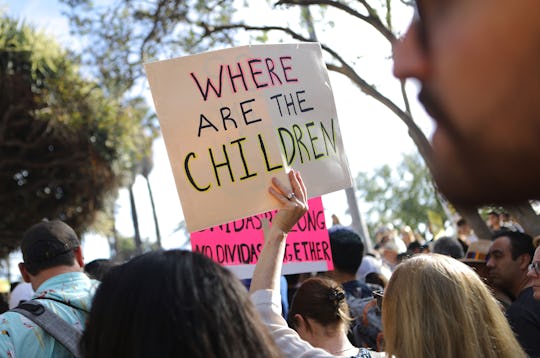 Mario Tama/Getty Images News/Getty Images
These Families Belong Together Quotes For Instagram Are Everything You Want To Say
Every day, it seems, there's another horror story resulting from Trump's immigration policy forcing the separation of immigrant families at the border — and every day, it seems, those stories get worse. That's why countless concerned human beings are planning to take part in one of the thousands of Families Belong Together rallies planned for June 30. But if you can't make it to an actual rally, you can still make your voice heard on social media. And if you don't know what to say, that's ok: There are plenty of Families Belong Together quotes for Instagram already in existence that can be recycled for your noble purposes.
Perhaps you, like me, are on the edge of being utterly consumed by feelings of rage, sorrow, and helplessness. You might find that sharing and posting about the situation on social media helps you to feel, for a moment, that you're not just screaming into the void. Posting a photo with a hashtag might seem pointless, but at this point, no action is too small. All of us need to keep posting, and protesting, and making phone calls, and sending emails, and doing anything and everything that has even the slightest chance of getting through to somebody.
So if you can manage to go to a rally, make signs for the whole family to carry. Or get the kids involved in making their own signs, so they can carry the memory of doing their part to fight injustice with them for the rest of their lives. Reading the words of the fearless souls who fought for human rights long before us is proof that the battle against oppression has raged since the beginning of time, and will likely last until the end of time on some level. That doesn't mean we should give up, however; far from it. Instead, it's our duty to pick up and carry on the great work of those who stood up to injustice throughout history. Their efforts were not in vain. Hate will not win.