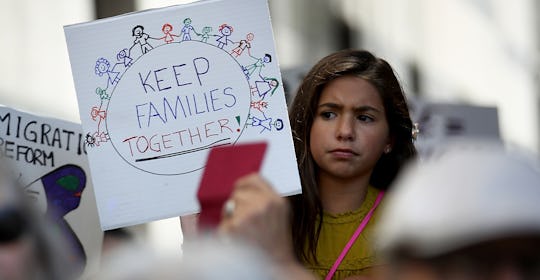 Justin Sullivan/Getty Images News/Getty Images
11 Families Belong Together Rally Sign Ideas For Kids Who Are Standing Up For What's Right
As a mom, I ache inside every time I read another headline about the children of undocumented immigrants — many of them infants and toddlers — being torn from their asylum-seeking parents at the U.S. border. My daughter can't even listen to the news without getting emotional. And we're not the only ones. Thousands of families will be joining one of the Families Belong Together rallies taking place in cities across America and Europe on June 30. If your family plans to attend one, here are some Families Belong Together sign ideas for kids, because they're not too young to make their voices heard.
The stories are beyond horrifying: Families endure grueling and treacherous journeys north from Central America, only to be detained at the southern U.S. border by ICE agents. Following the Trump administration's "zero tolerance" policy, undocumented immigrants are prosecuted, while their children are taken to foster homes or shelters. The huge processing center in McAllen, Texas, has become famous for its chain-link compartments that look more like a dog kennel than a safe haven for youngsters.
The Washington Post recently reported that more than 2,000 undocumented children are currently being held in institutions across the country, and many of their parents don't know where they are.
Here are 11 sign ideas for you and your children to carry on June 30 as you march in support of reuniting immigrant parents with their families.