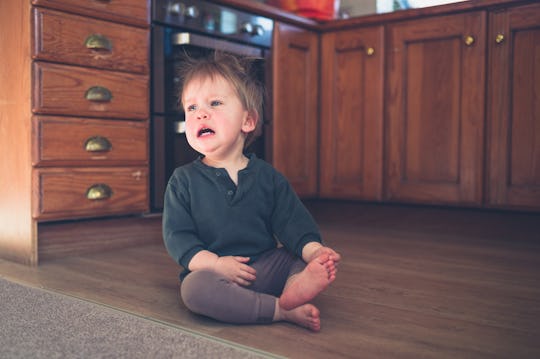 LoloStock/Fotolia
10 Fool-Proof Ways To Respond To Your Toddler's Tantrums That Books Won't Teach You
With five kids between us, my husband and I have experienced too many toddler tantrums to count. From mornings where no one seems to want to wake up, eat breakfast, or find their freaking shoes to bedtimes that seem to last forever and make us want to cry, to everything in between. We've found it's best to get creative when you respond to your toddler's tantrums, at least until you figure out what works for your kid. In my experience, what works doesn't look anything like the suggestions you read in parenting books.
My partner and I consider ourselves to be peaceful parents, which means we don't use physical discipline, we believe in natural and logical consequences, and we try not to yell at our kids. It's a work in progress, and it's seriously hard sometimes, but it's generally more effective and fun than losing your sh*t every time your toddler has a tantrum. Most of all, we try to remember that kids respond to attention, whether positive or negative, so we try to give them lots of positive attention for being helpful and kind, rather than giving them negative attention during the moments when we'd like to give them away on Craigslist. (I'm kidding. We made them, so we'd totally list them on Etsy.)
We also try to remember that our kids are little humans. Most of the time, when a toddler throws a tantrum, it's because they are having a hard time. It's not because they are trying to give you a hard time. They have an unmet need and an inability to communicate, so they're frustrated about it. With any luck, if us parents can show our kids a little empathy, meet their needs, and stay calm, we might just find that we can teach our tantrum-throwing toddlers how to manage their own emotions and ask for what they need.