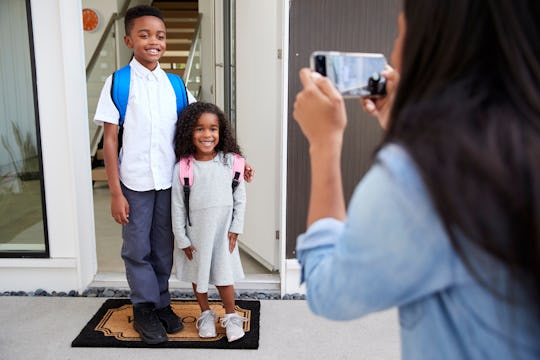 Shutterstock
These 10 Hilarious Back-To-School Pics Are All About Keeping It Really Real
Before we get started here, I want to make something abundantly clear: I love my children. I cherish spending time with them in the summer when days can be a bit lazier and lunches don't have to be packed at the crack of dawn. That said, I also wake with glee on the day they go back to school like it's Christmas freaking morning because after all that "togetherness" I am officially done. And from the looks of these hilarious back-to-school photos, it would appear I'm not the only one.
Every year around this time, our social media feeds become inundated with those first day of school pictures. Most of what I see in my timeline are the adorable, smiling faces of my friends' kiddos proudly holding up a sign of what grade they're entering. And I love seeing them, I really do... even if I know you had to bribe the crap out of them to get that one smiling pic. But what I love even more are the parents who fully embrace the first day of school as an opportunity to practice their God-given right to embarrass their offspring and truly start the year off right.
So here's to all the parents who are out there being extra and bringing us all a laugh as we navigate that dreaded carpool line while trying not to make eye contact with anyone at drop-off (just me?).