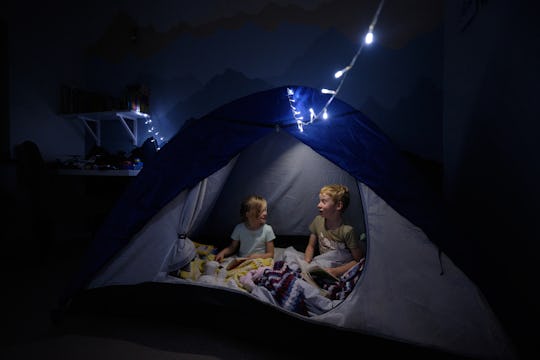 nattrass/E+/Getty Images
Here's How To Take Your Family Camping In The Living Room, Because Mosquitoes
Maybe you have allergies, and you don't want to spend your time sniffling and sneezing outside. Or maybe your idea of camping looks a whole lot more like glamping, complete with total access to your bedroom and bathroom. Or perhaps the idea of swatting away mosquitoes and incessantly spraying screaming kids with bug spray just isn't your idea of a good time. That's when you can look to bring the outdoors inside with these indoor camping ideas.
There are those who like roughing it (you know, nothing but you and nature... and a hole that you have to dig yourself for peeing.) And then there's the rest of us, who like the idea of camping — that is, until you have to pack every item under the sun in order to sleep under the stars. But no matter which camp you belong to (get it?), you'll have a blast with these ideas for creating a campsite in your living room. After all, you never know when your big camping plans will get rained out at the last minute... and this year, it could be the case that your kid's summer camp has been (or will be) canceled. It won't be exactly like a night in the wilderness, but you can still create a totally cool camping experience under your own roof. It requires some effort, but the memories you can make with your family are going to be absolutely priceless.
We only include products that have been independently selected by Romper's editorial team. However, we may receive a portion of sales if you purchase a product through a link in this article.