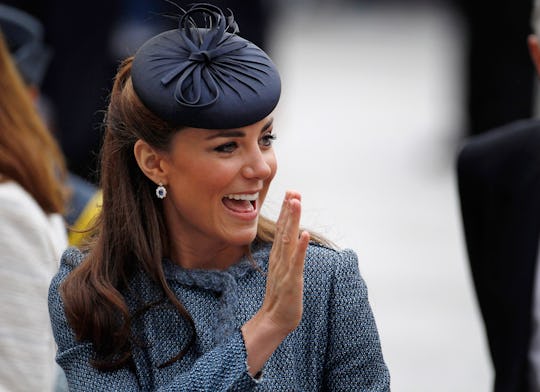 Christopher Furlong/Getty Images Entertainment/Getty Images
Dressing Up Like Kate Middleton This Halloween Is Easier Than You Think
Once Kate Middleton wears something, you're bound to see it all over stores. The Duchess of Cambridge has enviable fashion sense, from her always perfect blowouts to her perfectly tailored gowns and amazing coats. Her style might be one of a kind, but her looks are actually super easy to steal. There are tons of Kate Middleton Halloween costume ideas that will look perfect at any party you're headed to this Halloween, with the added bonus of being totally re-wearable.
It's no surprise that Kate has an eye for fashion. Before she became a full-time member of the royal family (not to mention a busy mom of three), the Independent noted that Middleton worked for British fashion label Jigsaw. These days, however, she gets a little professional help. Hello! identified Natasha Archer as the Duchess's personal "style advisor", and she's clearly earning her paycheck. Tatler named the Duchess to its 2018 Best Dressed list — but it looks like she's got some stiff competition from her own family members. Little Prince George and new sister-in-law Meghan Markle joined Kate on the list this year, too.
Here are 10 Kate Middleton inspired costumes from every stage of her royal life that you can wear for Halloween — and at pretty much any other occasion requiring a glamorous get up.