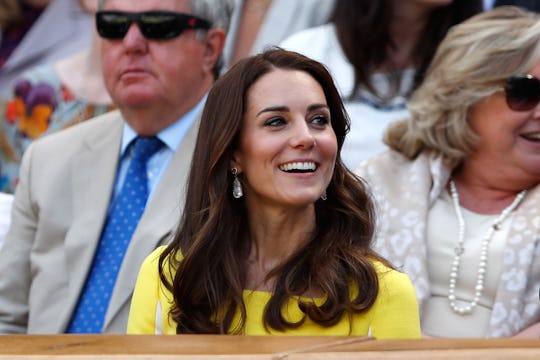 Pool/Getty Images Sport/Getty Images
Kate Middleton Shops At These Affordable Fashion Brands, Just Like You
Most people don't expect a fashion icon like Kate Middleton (a royal fashion icon, no less) to wear something that the average person can run out and buy at the store for a price that's within reason. That's why the world is basically freaking out right now over the perfectly breezy, beautiful summer dress from Zara that Kate was spotted wearing over the weekend at an outdoor event with George and Charlotte. That's right, Zara: As in the store where you, too, go shopping. That means you, too, could theoretically buy Kate Middleton's dress... and for just $70!
The always stunning mother-of-three was photographed wearing Zara's Flocked Print cotton dress on Sunday as she spent some quality time chilling with her two older children, according to The Daily Mail. (Baby Louis was at home, I assume.) With her hair up to stay cool, Kate reportedly tried to blend in with the crowd at the Houghton horse trials, a festival including showjumping, children's entertainment, and ice cream, of course.
Naturally, she didn't have much luck blending in, because: 1. She's Kate Middleton, and 2. She was wearing Zara... again! The Duchess of Cambridge's affinity for affordable clothing is just one of the many things that makes her so endearing. There's just something about seeing a princess in an outfit you could pick up at the mall that gives a girl hope, you know?
Except, um, tragically... you can't pick up that particular dress right now, because it's sold out. Unfortunately, this is what happens every time Kate wears something from Zara, according to Insider.com. From blazers to blouses to biker jeans, she's been seen wearing the chain store's styles multiple times... and before you can even log in to your Zara account, whoosh! It's gone. Talk about fashion frustration.
Kate seems to be a fan of several other "regular people" stores, too. (Between Kate's $70 dress and Meghan Markle's favorite $75 Reebok sneakers, these royals are surprisingly practical!) She's been photographed multiple times in fashions from the following affordable brands... maybe you even own some similar pieces? (If not, you probably will soon.)