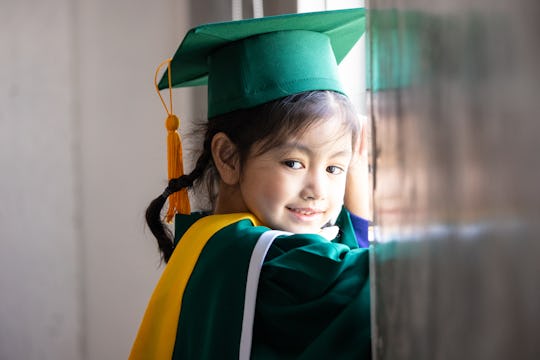 Arisara_Tongdonnoi/E+/Getty Images
Here's How To Have An Amazing Kindergarten Graduation Celebration In Quarantine
When you stop and think about everything that your child might be losing out on because of the pandemic (end-of-year parties, time with friends), well, it's enough to make you want to cry. Break out a big box of Kleenex, though, because if you have a kid who's about to go into first grade, you're probably going to miss out on a kindergarten graduation, too. But just because school is closed doesn't mean that your kiddo can't have a grad party. These kindergarten graduation celebration ideas for quarantine will help to mark the end of your little one's milestone year even if they can't be with their classmates.
Of all the years of schooling that your child will have, it's their time spent in kindergarten that seems to be the most transformative. After all, there are so many firsts when it comes to that full year of school, whether it's learning how to really read and write or socialize with other kids and make their first real friends. That's why celebrating your child's kindergarten graduation is so important, not just for them, but for the entire family. "The kindergarten experience forms a child's opinion of school, and if they have a positive one, it can affect their attitude towards school for the rest of their career," Elizabeth Tyrrell MS, an elementary school teacher in New York City, tells Romper. "That's what makes it such an important milestone that needs to be commemorated."
Diane Dooley, an elementary school teacher in New Fairfield, CT, agrees. "Kindergarten is a year of tremendous growth!" she tells Romper. "It is certainly worth spending time reflecting and celebrating all that was achieved."
If you're looking for a way to honor your little learner for all that they've accomplished during the school year, read on.
We only include products that have been independently selected by Romper's editorial team. However, we may receive a portion of sales if you purchase a product through a link in this article.