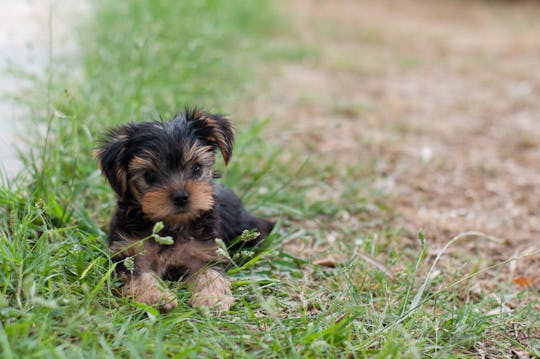 Shutterstock
If You're Looking For A Low-Maintenance Dog, These 10 Breeds Are Your Best Bet
Dogs are truly one of the best pets and companions one could ever hope for. But in exchange for that endless affection, dogs require plenty of time, care, attention, and maintenance. Finding a "low-maintenance" dog breed isn't a simple process. There are no categorically "low" or "high" maintenance dogs; rather, dogs vary in terms of the time and expense required to deal with different qualities (i.e., grooming or training). So when you're looking for a low-maintenance dog, what should you keep in mind?
I spoke to dog trainer Derek Anovick from Barkbusters Los Angeles, certified master groomer Joy Bonehill of The Barking Lot in San Francisco, and Sharon Town Lee, proprietor of Paws & Effect Pet Spa, to get their thoughts on which dog breeds in their experience they've found to be lower-maintenance than others. . One thing all the experts agreed on is that low-maintenance is going to mean something different for everyone. Anovick advised prospective owners to think about the different aspects of dog maintenance and consider what traits are important for your individual lifestyle. "Temperament, energy level, personality, the climate where you live, what your lifestyle is like (i.e., if you're an athletic person a herding or athletic dog is perfect for you, if you're sedentary get a sedentary dog) are all important things to consider," he says, adding: "Every dog has the same fundamental needs: food, safety and security, entertainment, and shelter."
Grooming is another major factor to include when considering maintenance.
"The most important thing about grooming is do your homework before you get a dog, and if you're getting a full breed or a poodle mix they'll need grooming, and you'll want to find out how much it's going to be costing you," says Bonehill.
But that doesn't necessarily mean shorter-haired dogs are automatically easier.
"Choose which thing you most like to tolerate, says Paws & Effect Pet Spa proprietor Sharon Town Lee.
"The truth is that short haired dogs shed and they tend to smell worse, so they have to be bathed regularly, although they generally don't need a haircut. Long haired breeds tend to have hair instead of fur, and when you have that long hair they'll need to go in for grooming."
Both groomers I spoke to suggested looking breeds up on AKC (they have a great tool for finding out which dog breed is best for your lifestyle), or getting advice from your local ASPCA. With that said, here are some commonly suggested low-maintenance dog breeds, with information on traits that make them easier to care for, plus the traits they have that will need more attention.