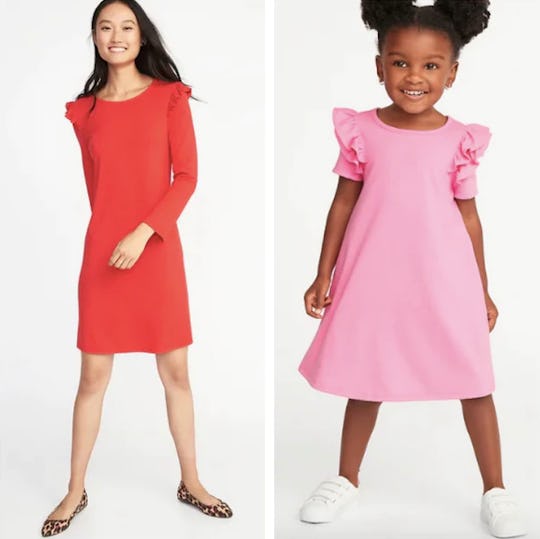 Old Navy
Valentine's Day Is *The* Perfect Excuse For These Adorable Mommy & Me Outfits
I love matching outfits. Not only are they the downright adorable, they're also a sweet sign that your child has not yet reached the age when they'll refuse to match with their dear old mom. And sure, matching mommy and me outfits might be a little bit cheesy... but is there any better day to be cheesy than Valentine's Day? These are 10 of the cutest mommy and me Valentine's Day outfits, whether you're heading out for a family dinner, celebrating at home, or (of course) just looking for the perfect photo op this February 14.
While I don't necessarily believe in going all out for Valentine's Day and spending a boatload of money to show your love, I'm still a huge fan of the holiday. It's the perfect time to remind all of your loved ones just how much they mean to you. Valentine's Day looks a lot different once you have kids, but that doesn't mean it's going to be any less special. Instead of late-night, dimly-lit romantic dates, you'll be celebrating the love you have for your little ones with cards, chocolate, and a lot of extra cuddles. (And, if you're lucky, you still might be able to sneak away for a late-night, dimly-lit date later!)
Either way, dressing for a holiday always helps everyone to get in a festive mood and stay there... especially when that holiday is Valentine's Day, and these are the outfits in question.