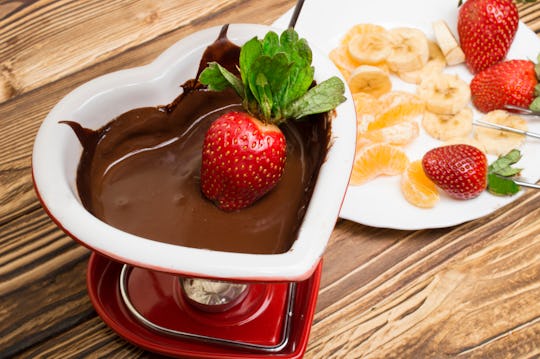 Cherry b l o s s o m/Shutterstock
Don't Go Out On Valentine's Day, Make These Crock-Pot Dessert Recipes Instead
The outdoors are a dark place on February 14. Picture it: restaurants are overcrowded; flower shops are a a sad wasteland of empty vases; and the roads are filled with aggressive drivers trying to get to their dates after grabbing last-minute gifts. Basically, nothing good can come from leaving your house on Valentine's Day, so you should just get in a romantic mood at home instead — and these 9 slow cooker desserts will have you feeling the love in no time.
Sure, wrangling your little ones and falling asleep by 10 p.m. probably isn't how you pictured your ideal Valentine's Day when you were younger, but that's because you didn't realize that true love isn't about grand gestures. It's about finding the person who brings fun to the daily tasks of adult life, and who gets that voluntarily watching Grey's Anatomy with you because V-Day falls on TGIT this year is actually an act of love. You know your partner loves you even if they don't take you out on a random Thursday in February, and making one of these slow cooker desserts can help show that you love them too. (Obviously, you won't turn down flowers, but the point stands.)
So read on for nine simple recipes that can make your at-home celebration of romance even more fun, and get excited to spend the day with the people you love most.