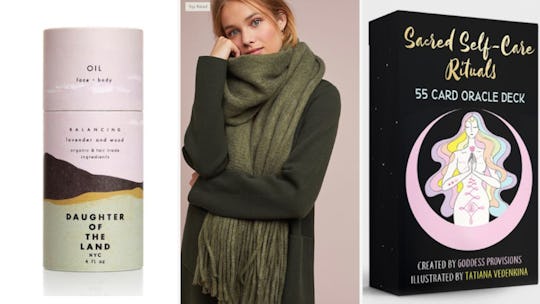 Daughter of the Land, Anthropologie, Goddess Provisions
These Valentine's Day Gifts Will Make The New Mom In Your Life Feel Like Royalty
Valentine's Day is traditionally the day for grand gestures, roses, and boxes of chocolate. But, it's also the perfect chance to simply let your person know how incredibly appreciated they are. And if there was ever a person in need of a little appreciation, it's a new mom. Between non-stop diaper changes and night feeds, new mothers are in the trenches around the clock. They deserve some pampering, actually all of the pampering. So here are 16 Valentine's Day gifts for new moms that will show you value all the work they're doing.
I think the sweetest gesture you can make for a new mom is to give the gift of time. Time to go get her nails done or treat herself to a massage. Time to just dry her hair or check emails. Time is the one thing in constant short supply for new moms. But, in addition to the gift of time, there are certainly some more tangible gifts that can go a long way in making a new mother feel a little more like herself again, or even like royalty for the day. There are some gifts below used by none other than the new Duchess of Sussex, Meghan Markle, a beauty icon and soon-to-be new mom herself.
So, without further ado, here are some sweet gift ideas that are all perfect for the new mom in your life.