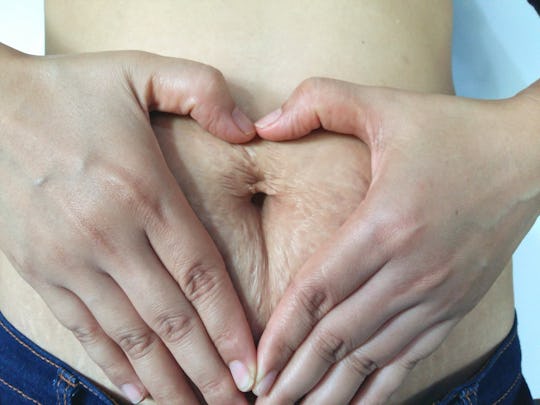 Shutterstock
10 Myths About Losing The "Baby Weight" You Should Ignore Immediately
Myths and parenthood seem to go hand-in-hand, unfortunately. From anti-vaccination pseudo-science to old wives' tales, it's easy for misinformation to run rampant in the parenting community. This is especially true when it comes to myths about losing the "baby weight." And, like in any other fabrication applied to any other aspect of parenthood, these myths, when blindly believed and followed, can have long-lasting and potentially dangerous affects.
CW: This article discusses eating disorders.
One thing about postpartum life that I worried about the most while I was pregnant was how my eating habits would change and how I'd feel about my body image. No, I was never worried about "bouncing back" losing the "baby weight" quickly. I was worried about whether or not my eating disorder recovery would be negatively impacted after pregnancy. As someone who struggled with bulimia for 10 years, and has been in recovery for seven, my relationship to body image and weight loss has been complicated and often unhealthy.
Thanks to therapy, an active commitment to self-care, and healthy coping mechanisms, my relationship to and with my body is finally in a nontoxic place. But that doesn't keep me from falling prey to that voice that tells me I have body issues I need to fix. And since there are countless things in the world — from media influences to stereotypes to unintentionally harmful comments from friends and family — that impact how we think about our bodies, I know I'm not alone. Our society's prevailing obsession with how postpartum people look make new moms, trans dads, and nonbinary people who just gave birth particularly susceptible to myths about weight and weight loss.
Romper spoke to Jennifer Rollin, MSW, LCSW-C, founder of The Eating Disorder Center, and Dr. Kiarra King, MD, OB-GYN, to help uncover some of the prevailing myths about postpartum weight, postpartum weight loss, and how these inaccuracies impact any gestational parent who has recently welcomed a new baby to the family.