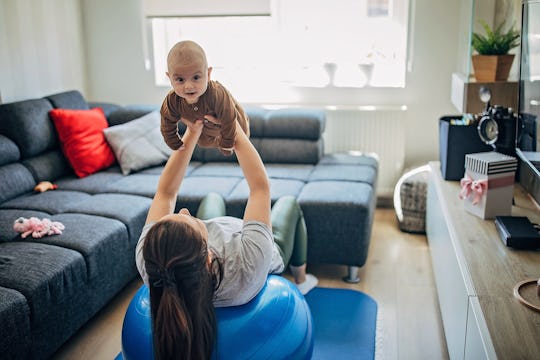 South_agency/E+/Getty Images
10 Online Baby Activity Classes So You Can Sing & Move Together At Home
While babies are usually pretty easy to entertain, you might find that you both enjoy doing more structured activities like sing-a-longs or dancing in a class meant for babies and parents. But what about when you can't leave the house? These 10 online baby activity classes are perfect for keeping your baby moving and learning at home.
With pretty much everyone at home right now, many mommy and me-style baby classes have taken to the internet. You can stream some right from YouTube, or sign up for an actual class that meets via Zoom. Either way, an online class can help give you and your baby something to do other than playing peek-a-boo.
Even when the world isn't practicing social distancing, sometimes getting out of the house with your baby just isn't possible. Maybe your baby has a runny nose, you were up late trying to squeeze in some alone time, or your older kids have a mountain of homework. Whatever the reason, it's just hard to load up your little one and take them to a class at a certain time on a certain day sometimes. Virtual classes can come in handy when you want to engage your baby in something fun and exciting, but life gets in the way.