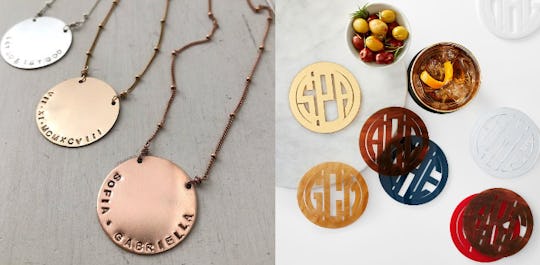 Isabelle Grace/Mark and Graham
Order These Personalized Gifts Around Cyber Monday & Earn Santa-Level Status
When it comes to making an unforgettable impression as a gift-giver, you can't go wrong with personalized presents. Whether it's a unique monogrammed accessory or a piece of customized wall art, people are always impressed with the extra effort you've made (not to mention your spot-on intuition). Plus, there's no way you could ever be accused of re-gifting. The only *slight* drawback to this approach is that you can't put making purchases off until the last minute — but there's still plenty of time. As long as you start ordering these personalized gifts around Cyber Monday, you'll be in the clear. (And maybe you can even cash in on a few sales before they're over.)
Full disclosure: You can push your purchases of most of these gifts until early December, but the sooner you order the better off you'll be. This is especially true when it comes to items that have a high likelihood of selling out, and it's safe to assume that all of these products fall into that category.
There's something "personal" for everyone on your list, whether you actually know them legit personally or not. (Talk about a brilliant way to bond with someone you're not super close to yet, like a new sister-in-law or co-worker.)
Check these gifts off your list now and be super proud of yourself for planning ahead later.