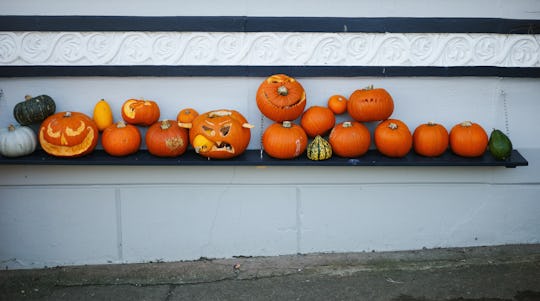 Ian Forsyth/Getty Images News/Getty Images
These Photos Of Celeb Kids At Pumpkin Patches Are Classic Halloween Cuteness
Pumpkin patches were basically made for Instagram, don't you think? I mean, have you ever seen anything cuter in this world than a baby plunked down in a pumpkin patch? Unless you have a picture of a puppy and a baby cuddling in a pumpkin patch (which is clearly always going to win the day), you know pumpkins and babies are the best. Case in point? These photos of celebrity kids at pumpkin patches. Just because we can all share in the joy, you know?
I think it's probably difficult even for us regular parents to resist the pull of a pumpkin patch visit. It's just so picturesque, so colorful and wholesome and simply made for an excellent family photo you know you're going to want to share for years to come. So can you imagine how much more exciting it must be for celebrity parents, whose family pictures are actually going to be seen by millions of followers? (Okay, that part might make it a little bit more stressful, too, but still.) It's especially exciting for celebrity parents who have just welcomed their first child and therefore are still in the honeymoon stage of parenting, when every milestone feels like the most thrilling thing that's ever happened. No wonder they're all lining up to visit the pumpkin patch like they think they'll get a visit from the Great Pumpkin.
Kylie Jenner and Stormi
Kylie Jenner and her boyfriend Travis Scott took their 8-month-old baby girl Stormi Webster to a pumpkin patch in Los Angeles on Wednesday and took a whole bunch of excited pictures. Personally, I think this one of Stormi in a sea of pumpkins is the best.
Lauren Conrad and Liam
The Hills' star Lauren Conrad obviously took the cutest picture of her 1-year-old son Liam with husband William Tell at a pumpkin patch, as Hola! reported. She has a perfectly color-coordinated Instagram feed to keep up, after all.
Khloé Kardashian and True
Not to be outdone by her younger sister Kylie, the Good American jean designer doubled down by dressing 6-month-old daughter True Thompson as a pumpkin in a pumpkin patch, according to ET Online. Well played.
Pink, Willow, and Jameson
The "Beautiful Trauma" singer enlisted the help of her 7-year-old daughter Willow to pull 2-year-old son Jameson around in a wagon and find a pumpkin, reported People.
Joy-Anna Duggar and Gideon
Counting On star Joy-Anna Forsyth shared this sweet snap of super smiley baby Gideon, whom she shares with husband Austin Forsyth, surrounded by leaves and a tiny pumpkin.
Alec Baldwin and Carmen
Hilaria Baldwin's picture of husband Alec and their 5-year-old daughter is all about keeping it cool. These two are obviously pros.
Jessica Alba and Honor, Haven, and Hayes
Jessica Alba might not have shared a pumpkin patch picture of her three kids with Cash Warren (9-year-old daughter Honor, 6-year-old daughter Haven, and 10-month-old baby Hayes), but she played around with a cool filter and announced in the caption:
We got pumpkins 🎃 today
Good enough.
Jessa Seewald
Jessa Seewald from TLC's Counting On took a different approach; she left 2-year-old son Spurgeon and 1-year-old son Henry at home and went shopping with sister Jana Duggar to bring the pumpkin patch to them, as she captioned this photo on Instagram:
2 adults + 2 kids + double stroller + 14 giant pumpkins + 5 mums = full minivan
Neil Patrick Harris with Harper and Gideon
If you ever have a free hour or two, please do yourself a favor and look up all of Neil Patrick Harris' former Halloween costumes with 7-year-old twins Harper and Gideon, as documented by Today. He and husband David Burtka knock it out of the park every time, and even managed to share a slightly different pumpkin pic this time around.
Heidi Klum and Family
The supermodel and mom of four (Leni, 14; Henry, 12; Johan, 11; and Lou, 8) was so excited to share a super cool picture of her family picking out pumpkins, she went ahead and put pumpkin pictures over her kids' faces in the picture on Instagram.
Because even if you're trying to protect your kids' privacy, you still have to share that sweet pumpkin patch picture on Instagram. Whether your kids are babies or not.