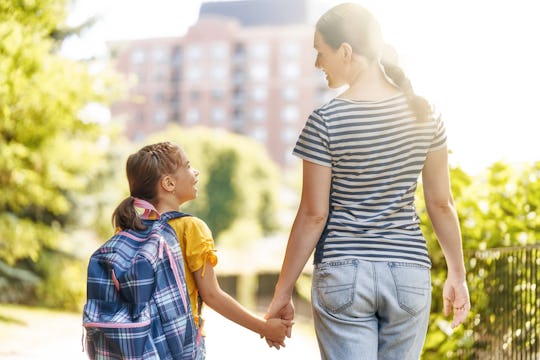 Konstantin Yuganov/Fotolia
10 Crucial Questions Parents Need To Ask A School Before Enrolling Their Kid
Kids usually have lots of questions before they start at a new school: Is the teacher nice? Do they have a playground there? What about snacks? But as a parent, you've got even more questions. Whether you have the option of picking between several schools or your neighborhood public school is the only choice, you'll still want to know as much as possible about where your child is going to spend the majority of every day. So what are some questions you should ask a school before you enroll your kid?
From big-picture concerns like a school's overall mission to mundane matters like transportation services, every school is different (even more so than you might expect). And because every kid is different, too, a school that's perfect for one child might not be the ideal environment for another. Even if it's not possible to find an alternative, however, learning everything you can about your kid's school ahead of time means you'll be better equipped to deal with potential challenges. After all, no matter how amazing the teachers or classrooms or curriculum, you'll always have to advocate for your child to receive the best education.
So before you send your kid to a given school, seek out answers to the following (very important) questions. And don't be afraid to ask! The sooner you open the lines of communication between yourself and your child's school, the better.