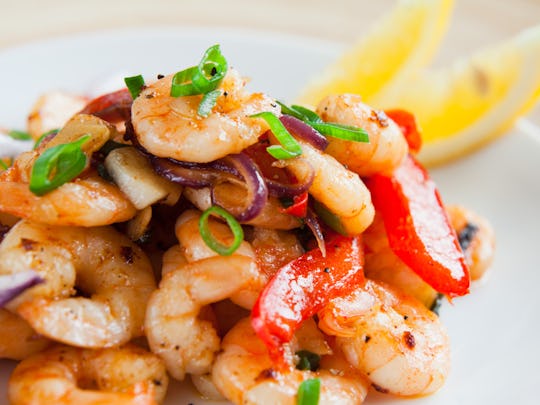 Shutterstock
You Don't Have To Be A Seafood Fan To Love These 10 Sheet Pan Shrimp Recipes
When it comes to super easy meals, forget your pressure cooker or your slow cooker — your sheet pan is actually your best friend. The humble sheet pan can help you whip up so many different yummy lunches and dinners, and it's a great way to cook shrimp. You'll definitely want to bookmark these sheet pan shrimp recipes and keep them handy for the next time you're craving something delicious.
Even people who aren't major seafood lovers often still enjoy eating shrimp. It doesn't really have a "fishy" flavor, and it goes so well with so many different spices. You can eat it by itself, toss it with pasta, serve it with a side of rice, even add it into tacos or fajitas. It's a very versatile food, and even better, it's pretty good for you. Shrimp is one of the foods the American Heart Association recommends people eat more of to lower their cholesterol levels (as long as it's not fried — which is, of course, all the more reason to bust out your sheet pan).
These 10 shrimp recipes can get a great meal on the table in a flash — even though it'll look like you spent hours on it — with minimal mess to clean up.