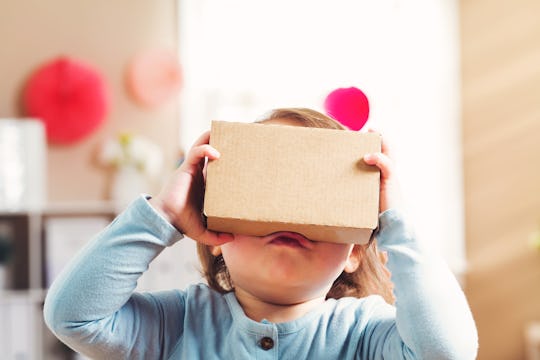 Fotolia
10 Signs My Kid's Not Being A Brat, You Just Forgot What A Toddler's Like
There's a grocery store in my neighborhood that features something I used to love until I had a toddler in tow: bulk bins. Rows and rows of loose food, much of which is easily reached by curious little hands. I talk him through the "store routine" ("First we pick, then we pay, then we eat!") every time, but I also prepare for and expect a meltdown. Thankfully, fellow shoppers are usually sympathetic, but there's always that one person who glares at us and shakes her head. I just roll my eyes and turn back to my kid. Expecting a twenty-month-old to handle that kind of temptation is a clear sign my kid's not being a brat, she just forgot what a toddler is like.
My son has lived on earth for less than two years. There's no way to reasonably expect him to get abstract concepts like money and private ownership, yet that's exactly what he'd have to understand in order to get why he can't just stick his hand inside the bulk bins and take food that's right in front of him. Frankly, from a biological perspective, the situation we're in at the grocery store is stupid: here is food, available in abundance. Everything in our bodies tells us to eat food whenever we find it because not that long ago in our evolutionary history, we wouldn't necessarily be guaranteed to find more. The only reason we don't, as grown-ups, is because we know it's socially frowned upon. Given that, of course he's mad that I'm telling him he can't have something that he can reach and has successfully eaten before. The radical in me agrees with him 100 percent, but I'm also familiar with social concepts like "stealing" and "police intervention," and I'm not going to put us in unnecessary danger over 70 cents worth of dried cherries. So I try to teach him the rules, I stop him when he breaks them, and I cuddle his wailing body until we get to the checkout lane.
Toddlers are challenging, no doubt. But the fact is, hundreds of times a day, grown-ups put toddlers into situations they don't understand and that make no inherent sense unless you've experienced them over and over again for years, like we have by the time we reach adulthood. Then we get mad at them for not knowing things we really have no reason to expect them to know, which is honestly kinda sh*tty on our part. The next time you're about to call a toddler a brat, whether it's my toddler or anyone else's, please check yourself. Sometimes, they're being bratty, but most of the time, your expectations are just unreasonably high.