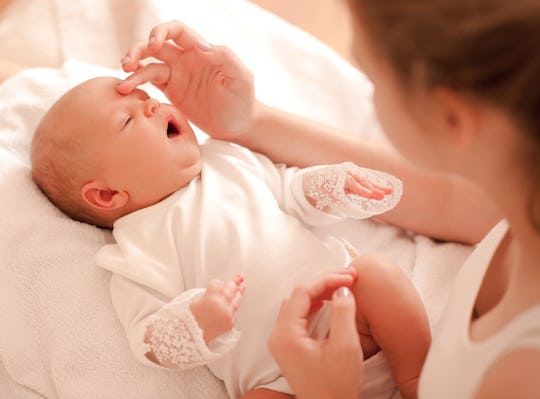 morrowlight/Fotolia
10 Silent Promises I Made My Baby The First Time They Cried Out For Me
The first time I saw my son I immediately wanted the world for him. And as he has grown, that feeling — of wanting to give him everything he could ever need, and tearing the world down in the process if necessary — hasn't vanished. If anything, it's only intensified. From his first steps to first words to the first of what will be many bumps and bruises, I always find myself thinking back on the silent promises I made my baby the first time he cried out for me. The promises that, as a mother, I will do everything to keep so the baby that has brought me more joy than I ever could've imagined, knows I will always be there for him.
My partner and I dreamed, hoped, and endlessly planned for another baby before I found out I was pregnant with my son. Our daughter was a toddler at the time, and conceiving and carrying her to term was fairly uneventful, so we were at a loss when I failed to get pregnant again. When we were finally able to celebrate a successful pregnancy, I miscarried. Distraught, confused, and heartbroken, we tried again. I miscarried again. With my age creeping upwards, and fertility treatments around the corner, my partner and I began to accept having another child may not be part of our story.
A few weeks later, though, I found out I was pregnant with my son. His heartbeat was strong and healthy, and though I feared I'd lose him at any moment, I decided to savor the pregnancy as best as I could. Through the pain and discomfort. Through the hypertension (pre-eclampsia) and loss of amniotic fluids that forced an induction. Through every kick and scary turn, he and I were connected in ways I never could've planned for.
When he was born alive, I was in awe. And when he first called out for me, the world stopped turning. Through the still air surrounding us both, his small voice carried in waves the needs he knew only his mother could fulfill. In that instant, my mind accumulated all the things I'd promise to do, and be, for my son and from that moment forward. Things like, for example, the following: