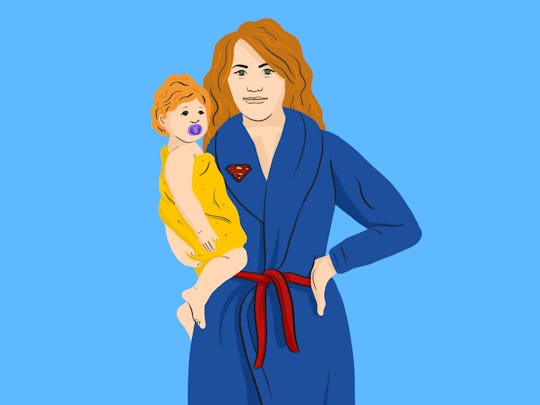 Claire Joines/Romper
6 Powerful Lessons Survivors Of Postpartum Depression Know So Well
Out of all the things related to being pregnant, delivering and raising babies, the part that I am most proud of is learning how to overcome postpartum depression. For some women, postpartum depression and/or anxiety hits like a ton of bricks after the baby is born. For others, it kind of creeps up slowly: You have a few good days in the beginning, maybe more, and you think you're in the clear. For me, I got through the traditional "baby blues" stage without feeling blue at all. It was weeks after my baby was born that I felt the walls of my life closing in on me and the fear that my earlier ambivalence toward pregnancy would be rewarded with my new baby dying suddenly.
It was a difficult time, to say the least.
I am just coming out of the darkness that postpartum depression blanketed my life with. I am just starting to feel like myself again, after more than two years of hard times. That's right, PPD doesn't always end at the one year mark. And it doesn't always begin after your baby is born.
It's been a long haul for me, there's no question. Postpartum depression was something I was so afraid of, but in the end, I'm incredibly grateful I endured it. Sometimes our darkest moments can lead us to our greatest ones. That's certainly been the case for me.
Here are some of the other things I've learned from pushing my way through PPD and coming out on the other side.