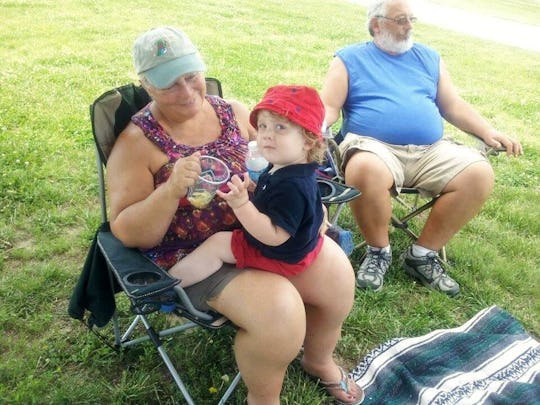 Courtesy of Steph Montgomery
The Struggle That Is Taking Your Kid To Grandma's
We are really lucky to live close to my parents and that my kids get to see them all of the time. Honestly, that's one of the main reasons we moved to a red state to begin with. (No offense, mom and dad). As much as I love going to "grandma and grandpa's house," which is my son's favorite place on the planet, there are struggles every mom knows when she takes her kid to their grandparents.
We go to my parents' house at least once a month. I love the break and being able to spend time with my parents, who are actually good friends, too. However, the struggle is real. A different environment often means different behavior. For my kids, that generally means that they either test boundaries and see what they can get away with. Seriously? Did you seriously draw on the floor with crayons? WTAF? You are seven, not two! Or, they are perfect angels and make me seriously wonder if my mom has magical powers. You ate everything? Everything?! At home, you only eat cheese. I don't understand. What black magic is this? They happily eat foods they would never even try at home and then I get to hear about how yummy grandma's mac 'n cheese is for days. And I'm not going to even get started on baked goods and ice cream. I can't compare.
When are we going back to grandma's house, mom? The struggle is real. Here are some struggles every mom knows when she takes her kids to their grandparents.