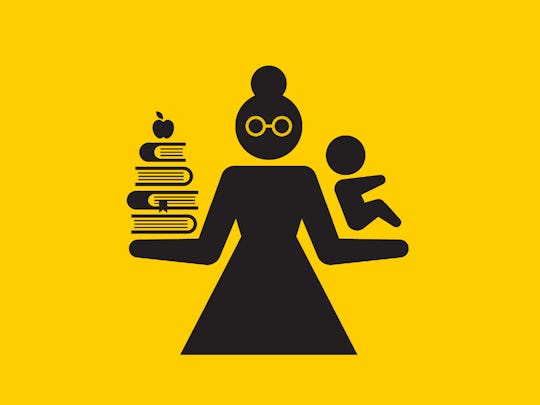 Helen Tsing/Romper
10 Student Moms Share Why They Chose To Go Back To School After Having A Kid
There are multiple reasons why people choose to go back to school and finish a degree or tackle a new one, but having a kid can either make that choice easier, or harder. For some mothers, the motivation is simple: They want to build a better, more financially stable environment for their child or children to grow up in. They want to be able to afford college for their child, trips for the family, a larger house with more room, and anything their kid might maybe could possibly need.
Some mothers go back to school simply because they're interesting in continuing to learn, or because they want something just for them that gives them a sense of self and purpose that isn't attached to their families, and maybe not even attached to their current careers. Others still go back to school to set an example for their children, showing them that it's never too late to learn new things, or to achieve whatever it is you want to achieve.
Regardless of why, the decision to go back to school is more complicated when you're a mom. Trying to find a balance between raising your kid and doing well in school can be, well, really damn difficult. Many mothers hesitate to enroll back in class because the mom guilt is real and can spark that evil voice in your head that says "you can't do this" or "you shouldn't do this." The fact that more mothers are feeling empowered, comfortable, and capable enough to go back to school after having a baby is pretty amazing on its own. The social tides are changing and the idea that a woman must stay home (forever) after she has a baby is old, aged and laughably false.
So, in celebration of a woman's right to continue evolving, growing, and challenging herself as a whole person well beyond the point at which she becomes a mom, here are ten women on the reason why they decided to do kids and school at the same time.