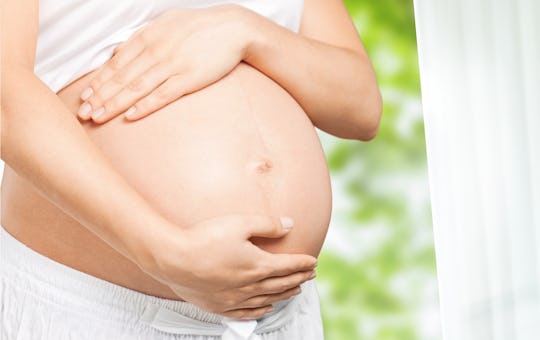 Fotolia
10 Things A Pregnant Woman Shouldn't Have To Ask For When She's "About To Pop"
The last month of pregnancy is actually 2,657,345 days of pregnancy. I'm not being hyperbolic, my friends. That's a literal, honest calculation and, as you can see, that is a large amount of days to remain very large and very uncomfortable. The person who endures these 2,657,345 days is already doing enough, so the list of things a pregnant woman shouldn't have to ask for when she's "about to pop" is long. It's also a worthwhile read.
Now, dear reader, you might say, "Is this person delusional? The last month of pregnancy is 30 days, give or take a few, not 2,657,345 days. Don't you know how to count?" To that I say you must not have heard of the time-space continuum, fairy-world universe fold into which all pregnant people sink. We still exist here on this plane, but while people who aren't "about to pop" experience time via normal perception, those who are "about to pop" experience time via this fairy-world perception. The ratio is, as a matter of fact, 30 Earth-days: 2,657,345 fairy-world days, to be precise and in case you wee wondering.
Armed with this newfound knowledge, you can see how a person "about to pop" for 2,657,345 days might become a little irritable. You can see how this person might experience you saying "no" to one request as you saying "no" to every single request for 2,657,345 days. That just feels cruel, doesn't it? Why would you deny this pregnant person a little bit of comfort in her seemingly endless final days of pregnancy? She is, after all, "about to POP." At this point, the graphic image of a human being's bulbous belly popping may actually be a preferred outcome over staying pregnant for even just one more day.