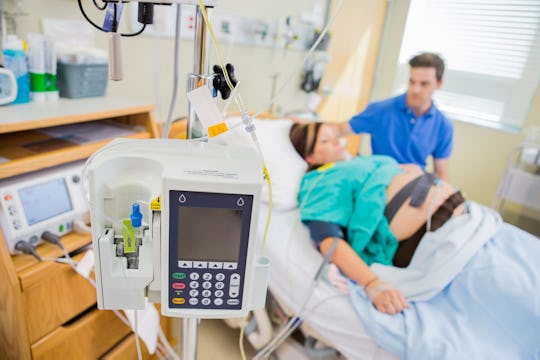 Fotolia
10 Things Every Grown-Ass Man Does While His Partner Is Getting An Epidural
Women choosing to get an epidural are so often made to fear the moment that "big, scary" needle comes into play. As someone who has had two epidurals in my life, I feel like the fear mongering is completely unnecessary. A pregnant woman's friends, family, and especially their partner should be supporting her decision to get one, rather than terrifying her. Even though they're not the ones pushing a human out of their body, there are things every grown-ass man can do while his partner is getting an epidural that can put her at ease and make her feel supported, rather than scared or worried or apprehensive.
I've spent the better part of my adult life working in the medical field and, as a result, have witnessed the phenomenon that is needle phobias on multiple (hundreds) of occasions. Needles have never bothered me, personally, so when I got my epidural I wasn't worried in the least bit. That was, of course, until I saw my partners face when the anesthesiologist showed up with that needle. I had no idea that he had a fear of needles, but his wide eyes as the doctor prepped my back caused me to question my decision and made me feel like maybe an epidural was a bigger deal than I had previously thought.
To make a long story short, it wasn't. My epidurals were easy and if I had to go through another labor and delivery, I would definitely get another epidural. I don't regret getting an epidural one bit, but I do regret the momentary fear that hit me after my partner's palms started sweating while he was in the same room as a needle. I mean, come on. So, for the sake of other grown-ass men who might be in a similar position soon, I've compiled a list of how they should conduct themselves while their partner prepares for their epidural and, in turn, the moment they bring their baby into the world.