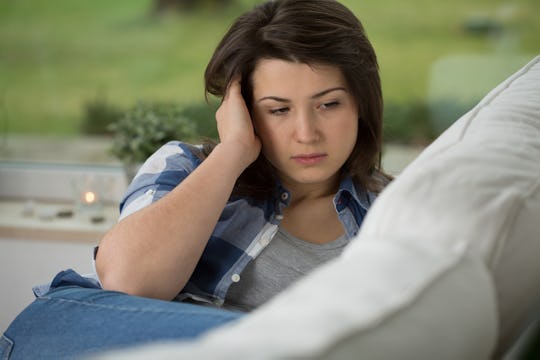 Fotolia
10 Things I Wish My Partner Knew About My PPD, Without Me Having To Say It
Postpartum Depression (PPD) is so hard to explain to people who haven't been there. Especially your partner, who is likely scared and anxious and trying to parent while simultaneously support you. Sometimes even just saying the words "I'm not happy" or "I feel depressed" or "I need help" feels impossible, even if you're saying those words to the person who knows and loves you best. There were so many things I wish my partner knew about my PPD, without me having to actually say it.
Things like how exhausted I was trying to keep up with breastfeeding, how scared I was that motherhood was going to feel that bad forever, and how lonely I was trying to cope with it all by myself. Was I a bad mom? Would I ever love being a mother? How did things get so bad, when we are supposed to be happy?
Being a new mom is seriously hard anyway, and on top of the normal level of hard, so many of us (as many as 25 percent) also experience postpartum depression. There's little you can do to prevent it, and doctors don't always know the cause, but some combination of giving birth, postpartum hormone changes, sleep deprivation, anxiety, recovery, previous mental health issues, and even challenges with breastfeeding can trigger postpartum mood disorders, including anxiety, depression, and psychosis. The good news is that there are treatment options and many parents (including me) are able to get help and move forward with their lives. The lucky ones have supportive partners to help see them through these dark days.
Here are just a few things I wish my former partner had known about my PPD, and hope my current partner knows when our baby is born, without me having to say them out loud.