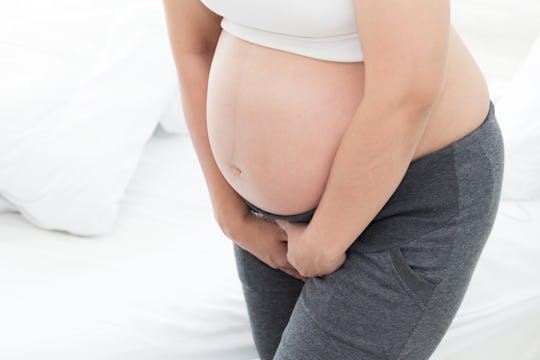 Narong Jongsirikul/Fotolia
10 Things Lightning Crotch During Pregnancy *Actually* Feels Like
I knew nothing about lightning crotch until I experienced it for myself. I was in my office, walking down the hall, minding my own pregnant business when all of a sudden: BAM. It hit me. It was as though my vagina had been inexplicably electrocuted. It was swift, painful, and (mercifully) over pretty quickly. At first I attributed it to a previous diagnosis of neuralgia, but when I started talking to other expectant mothers (thank you internet message boards) I discovered that they could totally relate to what lightning crotch during pregnancy feels like. Yes, friends, this is A Thing.
Like many things having to do with women's health, lightning crotch, despite hurting a whole hell of a lot, really isn't discussed and is often brushed aside as "not that big a deal." And, anecdotally, it usually isn't a totally huge deal because the pain doesn't actually last too long. But for some women I've known, persistent "lightning crotch" makes pregnancy absolutely unbearable.
What exactly is this phenomenon? And perhaps more importantly, what causes it? Again, as is par for the course with women's health, we're not sure. It could be related to increased blood flow during pregnancy. It could be pressure on the nerves in the cervix. It could be varicose veins inside your damn vagina. So, until we figure that out, just deal with it, ladies! Your pain doesn't actually matter as much to the Medical Industrial Complex!
Fortunately, this bizarre symptom in and of itself doesn't appear to be related to any negative medical outcomes for you or your baby, but it does f*cking hurt. But just telling you it's painful isn't very responsible of me. Allow me to paint you a picture... with words.