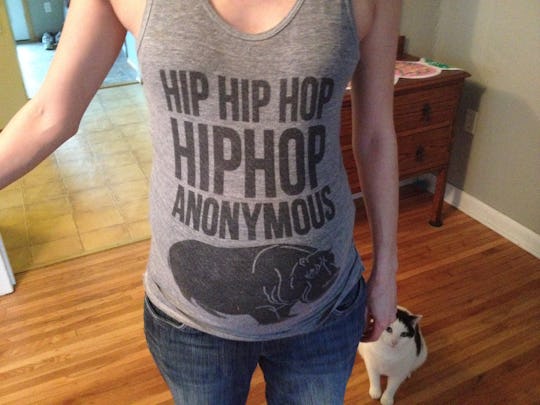 Courtesy of Kimmie Fink
What You Should Know About Those Damn Hemmorrhoids
When you're pregnant, you'll hear plenty about the common discomforts of pregnancy like nausea, fatigue, and heartburn. You'll be reassured that it's OK to be scared about labor and delivery because everything will be fine. One thing you won't hear about? Hemorrhoids, also known as a Pain Worse Than Death. (Dramatic? Me?) Maybe it's because most people are too prim and proper to talk about buttholes. Fortunately for you (arguably), I'm not most people. I'm here to tell you all the things no one tells you about pregnancy hemorrhoids. You're welcome.
For the blessedly uninformed, hemorrhoids are swollen and inflamed veins in the rectum or anus that can cause discomfort, pain, itching, and bleeding. They're also called piles, because apparently we needed a heaping side of heinous mental images in order to completely understand the situation. A case of the "hemmies" is quite common during pregnancy, especially during the third trimester. Think about it: there's pressure from your growing uterus, increased blood flow to the area, and constipation (also typical when you're expecting). It's a recipe for an angry rectum. (Angry Rectum, by the way, would be a wonderful band name, in case you're looking.)
If you've had hemorrhoids before, you're more likely to get them during pregnancy, too. I had my first bout right after I moved home from living abroad and started a new job. I thought that was bad, but I had no idea of the fresh hell that was awaiting me two years later. On my final day of work before maternity leave, I felt a familiar, unwelcome itching in the backdoor of my nether regions. By the next day, the biggest one was dark purple and the size of a newborn's fist. Within 24 hours, I was in urgent care getting the things surgically excised (that's about as fun as it sounds). Unfortunately, that didn't fix it, and I found myself in general surgery again three days later. I went into labor that weekend. You know what feels awesome? Pushing out a baby over a surgical site.
I had nausea for 20 weeks, vomited my entire pregnancy, and was in labor for 29 hours. However, out of everything pregnancy so lovingly provided, hemorrhoids were the absolute worst. You better believe that if I do form that marvelous band, Angry Rectum, there will be songs about it.