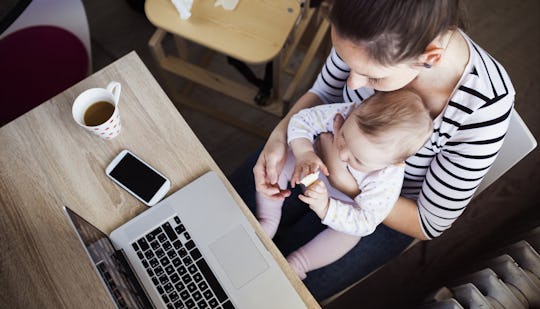 Fotolia
7 Things Moms On Maternity Leave Are Tired Of Hearing From Non-Mom Friends
Going on maternity leave can be a very strange experience, at least in the beginning. Before you have a baby, you really have no idea what those weeks off will entail. I mean, you think you know, but unless you have a baby of your own, you don't. Trust me. Our collective misconception about maternity leave and what it consists of is probably why there are so many things moms on maternity leave are tired of hearing from non-mom friends, because they most definitely do not fully understand what's involved in taking care of a newborn and, honestly, it's not their fault. Maternity leave has been packaged as a "vacation" when it's anything but, and unless you're a mother who has experience maternity leave first hand, you probably just don't know any better.
I know there are plenty of childless people out there who are sick of hearing that they don't understand what it's like to be a parent, and rightfully so, but I find myself having to repeat that sentiment over and over and over again. I'm sorry, but people without kids really have no idea what it's like. It's not like having a new puppy. It's not like babysitting. It's not like being an aunt or uncle. It's non-stop, put-yourself-and-your-needs-last, sleep-deprivation insanity. Sure, it's filled with love and excitement and joy because you're created a new life that is half you and half someone else, but that doesn't make it easy. There may be days when things feel easier, but there are many more days when all you want to do is hand over the baby when your partner gets home and just walk away, so you can recover.
So, when I tell someone that I have been or I'm on maternity leave and they start talk about alone time, or loudly wonder how I could possibly fill my days when all I have to do is take care of my newborn, I feel the instant urge to scream and then run to avoid potentially violent activity. Maternity leave isn't a vacation; Maternity leave isn't easy; Maternity leave isn't anything other than essential, for so many women, because an adjustment and bonding and healing need to happen. So, with that in mind, here are seven things moms on maternity leave are tired of hearing from non-mom friends.