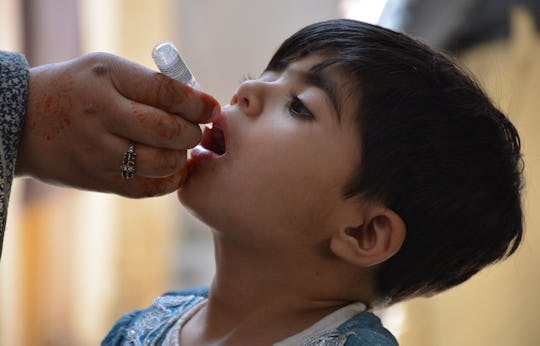 BANARAS KHAN/AFP/Getty Images
10 Things Parents Who Vaccinate Their Kids Just Know
At the risk of stirring up a small but highly active internet hornet's nest, let's talk about vaccines. If the few online mom groups who haven't outright banned the topic are any indication, it seems there are certain things parents who vaccinate their kids know, that aren't yet common knowledge among all parents.
Now, I feel I should say up front that I have my granola tendencies here and there, so I can understand (to a certain point) why some people are skeptical of the ubiquity of artificial chemicals in our and our children's lives. I personally don't believe that some vaguely-defined concept of "natural" is automatically better in all things, but I like to keep things simple. I don't like a lot of extra unpronounceable stuff in my food (mostly because cause it tastes bad), I wear my hair natural and use coconut oil for damn near everything (easier and cheaper), and I gave birth to my son at home, without medications, on purpose (though that was more about birthing with a provider I liked and protecting my future sex life, than any worries about what's in an epidural). I'm just an, "If it ain't broke, don't fix it (and end up potentially breaking it in the process)" kinda lady.
However, and with that being said, you know what was really broken before someone came along and fixed it? Societies beset by horrific, often deadly childhood diseases.
There are lots of parenting issues that truly are a matter of style, with no one right answer or one-size-fits-all situation. It's not even worth debating them, so much as just sharing information so people can make the choice that's right for their family. It makes no difference in my life if another mom has an epidural, or if she uses a stroller rather than wearing her baby, or if she uses formula instead of breastfeeds. That kind of stuff sits clearly in "you do you" territory, and I'm all for supporting women's choices.
When it comes to vaccines, however, there's a reason folks (myself included) get heated. With vaccination, we're no longer in "mind your own business" parenting territory, because contagious diseases don't mind their own business. There's room for debate on a lot of issues, even within the medical field, but few modern advances have been as extensively well-studied, and well-supported, as vaccines. Parents who vaccinate our kids understand this, as well as the following: