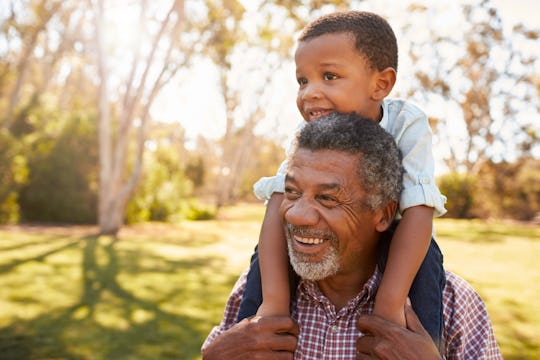 Shutterstock
Here Are 10 Things To Do On Grandparents Day That'll Make The Sweetest Memories
It doesn't get as much attention as Mother's Day and Father's Day, but the September holiday of Grandparents Day is the perfect opportunity to celebrate the special relationship between your children and your parents. There are any number of things to do on Grandparents Day, from the simple to the more involved, so all you have to do is think of which activity would suit your family best.
Grandparents Day always falls on the Sunday after Labor Day, according to National Today, so for 2019, that's September 8. It was established more than 40 years ago as a way to recognize the role grandparents play in their grandchildren's lives. Some Grammas and Granddads are lucky enough to live with or near their grandkids and watch them grow up, while others live far enough away that every visit is a special occasion. Still others serve as regular caregivers, who get to know their grandchildren's friends and teachers almost as well as their parents do.
But all grandparents are a vital link not only to family history, but to the history of their generation. Reading about World War II or the Vietnam War pales in comparison to listening to the stories of a grandparent who actually served. Grandparents recall the days before cable (and color!) TV, cell phones and tablets. They may have begged their parents for permission to buy the latest Little Richard 45, go to Woodstock, or wear platform shoes. And their grandkids love hearing about it all.
Make this Grandparents Day one to remember by trying one of these activities, or come up with something equally meaningful to your family. The memories you'll create for your children and parents alike will last long after the day is over.