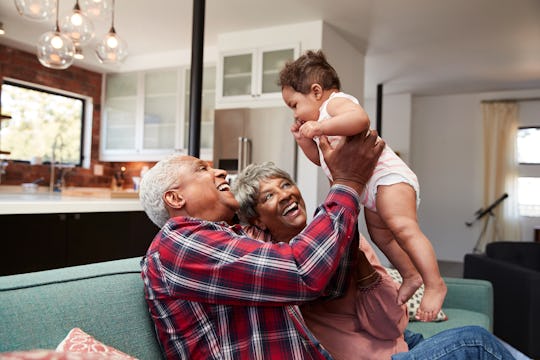 Shutterstock
These 18 Gifts For National Grandparents Day Will Make Every Nana & Pop-Pop Smile
Even though they get individual attention on Mother's Day and Father's Day, parents and grandparents have yet another day to get an extra dose of love and celebration. For National Grandparents Day, they deserve special gifts that acknowledge their place in the family and in our hearts. Happily, there's time to shop and a great assortment of items to choose from.
National Grandparents Day 2019 arrives on September 8, a nice time of year to have a holiday. (It always falls on the Sunday after Labor Day, when the weather is still pleasant enough for a barbecue or a family outing.) As National Day Calendar explained, Grandparents Day was created to honor the special bond between grandmas, grandpas, and the grandchildren they adore. There's a connection they share that can't quite be duplicated by parents, nor should it.
The gap in ages allows kids to learn from a generation that has seen more family and world history. In turn, grandparents relive the joy of being with younger children, without the responsibilities of parenting. (Dirty diaper? Back to you, Daddy!) Parents, in turn, realize their place in the family chain, and look ahead to the time when they, too, will become part of the older and wiser generation.
If you're stuck for gift ideas for the grandparents in your life, here are just a few suggestions. They're all thoughtful and memorable, and not a single couch throw or scented candle among them (because hello, cliché much?).