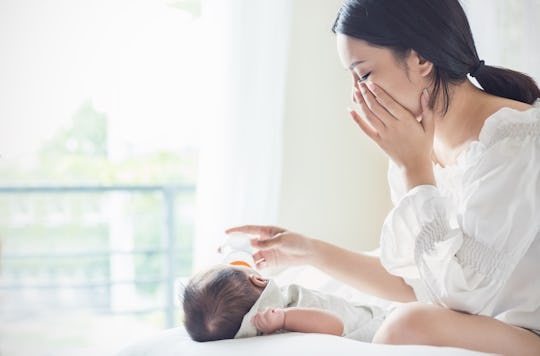 Shutterstock
Here's How To Help Someone With PPD, Because You *Can* Make A Difference
The anger. The exhaustion. The complete and utter sadness and powerlessness. Unless you've experienced it yourself, it's hard to understand what postpartum depression feels like. And whether you've been lucky enough to never have had it (or you did and you came out on the other side), it's important to show support to the women in your life who might be struggling after having a baby. That's why learning how to help someone who has PPD can really make a huge difference in a new mom's life.
Postpartum depression is a lot more common (and serious) than you might think. The Centers for Disease Control reported that 1 in 9 women experience postpartum depression. "Sometimes, providers and family confuse PPD with the baby blues, but the baby blues resolve by about two weeks postpartum, whereas PPD symptoms may extend beyond that and might not even arise until after that point," Emily Souder, MA, MSW, LCSW-C, a licensed therapist in Maryland who specializes in perinatal mental health, tells Romper. "Those with PPD might feel hopeless, tearful, have little or no interest in doing things they used to enjoy, have trouble connecting with their new baby, or even might start thinking that their family would be better off without them."
Naturally, you want to offer assistance… but here's the problem: Just telling your friend that you're there to help might not necessarily, well, help. "Accepting help is something that many women have trouble with," says Souder. "That's why offering something specific that you can do can take some of the pressure off." So if you want to reach out, look at this list to see the ways in which you can make life a little better (and brighter) for someone who has PPD.